<![if !vml]>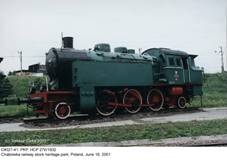 <![endif]>
OKl27-41 (HCP 270/1932), preserved at Chabówka loco heritage park, photographed in June 2001.
<![if !vml]>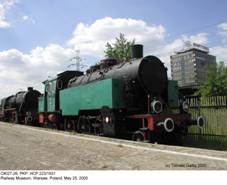 <![endif]>
OKl27-26 (HCP 223/1931), displayed at the Railway Museum in Warsaw; photograph taken on May 25, 2005.
<![if !vml]>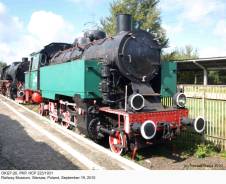 <![endif]>
Another picture of this engine: September 19, 2010.
<![if !vml]>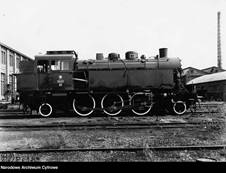 <![endif]>
OKl27-25 (HCP 172/1930), location and date unknown – possibly a factory photo. Captured by Germans, this engine was impressed into DRG as 75 1225. Returned after the war, it became OKL27-10 and was withdrawn in December 1979. Source: National Digital Archives (used by permission).
<![if !vml]>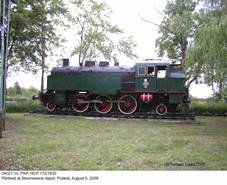 <![endif]>
OKl27-10 (ex OKl27-25) is currently owned by PSMK railway fans society and plinthed at the Skierniewice loco depot. Photo taken on August 6, 2005.
<![if !vml]>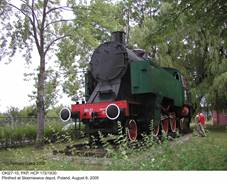 <![endif]>
Another photo of the OKl27-10, taken on the same occasion; shorter right water box can be easily seen.
<![if !vml]>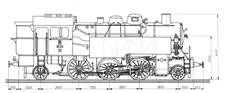 <![endif]>
OKl27 side drawing from PNP.
<![if !vml]>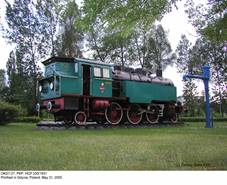 <![endif]>
This OKl27-27 (HCP 227/1931) is plinthed at the Gdynia Grabówek loco depot; photo taken on May 31, 2005.
<![if !vml]>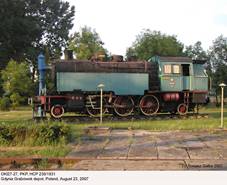 <![endif]>
Another picture of the OKl27-27, taken on August 23, 2007.
<![if !vml]>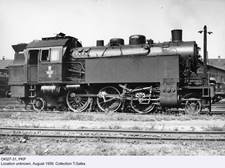 <![endif]>
OKl27-31, photographed somewhere in Poland in August 1959. Photo from my collection.
<![if !vml]>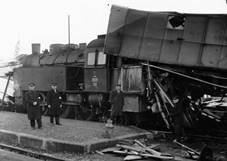 <![endif]>
OKl27-115 (HCP 294/1933) crashed a timber store in Mysłowice on January 15, 1937. This engine became DRG 75 1300 after September 1939; finally returned in 1947, remained in use as OKl27-58 until June 1976. Source: National Digital Archives (used by permission).
Few locomotives acquired by PKP after WWI were suitable for suburban traffic; this service required fast startups and frequent stops, as well as possibility to run at full speed in both directions. Passenger tank locomotives, most suitable for such duties, were few: most of them were Prussian classes T11 and T12 (in PKP service OKi1 and OKi2, respectively) plus several Austro-Hungarian engines, but their combined number was only about 150 and many of them were weak and obsolete. Due to lack of suitable engines, it was a typical practice to use heavier passenger or even freight machines instead, but this was certainly an interim measure. There was thus a need for a light, fast passenger tank locomotive that could also be used with local trains. Initially it was intended to build an improved version of successful Saxon class XIV HT, which was designed specifically for suburban traffic (eleven served with PKP as class OKl101), but it was ultimately considered too weak and obsolescent. A decision was thus taken to design an entirely new and modern locomotive, retaining only the axle arrangement of the Saxon engine. The task was entrusted to the Cegielski company of Poznań (HCP); their design was approved by PKP in 1927 and accepted as class OKl27. First five examples were supplied during the next year and production lasted until 1933, when 122 locomotives had been built, all by HCP. This total included fifteen engines delivered in 1929, thirty in 1930, twenty in 1931, 41 in 1932 and eleven in 1933. Despite moderate, the orders for OKl27s were very important for the company, as they helped to keep the factory busy during the Great Crisis.
Several modifications were progressively introduced, as new engine was initially not entirely satisfactory. After initial experience with Tr21 and Ty23, which were prone to derailing, small idlers – only 860 mm in diameter – were used, but no substantial improvement resulted. Adams idle axle was certainly not a modern design feature at that time. Modification of truck springs gave some improvement, but running remained somehow uneasy above 50 km/h; this, however, was not a particular shortcoming, as the machine was not intended for very high speeds. Another interesting feature was the introduction of variable-length suspension levers which facilitated easy adjustment of maximum axle load from 16 to 17.5 tonnes. In examples from OKl27-21 onwards, due to fractures of side sills, frame was redesigned and strengthened, which resulted in slight increase of overall length and weight. First machines (up to OKl27-70 inclusive) had water boxes of unequal lengths: the right one was slightly shorter, to provide space for the compressor. This was later eliminated, in order to balance mass distribution. Boiler accessories were also progressively modified and electric lighting supplanted petroleum headlights in 1930. As in some other pre-war Polish locomotives, some new design features were also tested, but not all of them eventually found widespread use. OKl27-112 (HCP 291/1933) was fitted with the Wysłouch-type valve gear, which proved in general successful, but somewhat complex (like similar Lentz valve gear in Germany, it was not widely adopted and further development was abandoned). Several examples were fitted with makeshift smoke lifters, but these were never standardized.
First machines entered service in 1929 in Upper Silesia. Most were, however, directed to the Warsaw railway hub, with heavy suburban traffic. Eight examples were used by the French-Polish Railway Society for passenger traffic on the 'Coal Trunk Line'. They soon earned a reputation of good, reliable locomotives, well suited to fulfill demands they had been designed for. Suburban traffic remained their prime domain for a long time.
In 1939 one engine of this type (possibly from the French-Polish Railway Society fleet – service number is not known to me) was used with the makeshift armored train 'Smok Kaszubski' in the defense of Gdynia. Seriously damaged by direct bomb hits on September 11, it was deliberately derailed two days later. After the cessation of hostilities most OKl27s were taken over by the Germans. 107 of them were impressed into DRG service. Initially they retained their Polish service numbers. In 1941 they were classed 7512-13 (service numbers 75 1201 through 1307). Fifteen were captured by the Soviets, but probably only two (OKl27-55 and OKl27-90) were converted to the 1524 mm track. All Soviet engines retained their original designations (written in Russian script as OKЛ27) and service numbers. Except from the above-mentioned two, all fell after Fall Barbarossa into German hands and were impressed into DRG and 75 1308 through 1320. During 1944 and 1945, Soviet forces captured seven OKl27s, which were later impressed into the NKPS service and never returned. Some, possibly all, retained their DRG designations. In 1945, four OKl27s were found in Hradec Králové in Czechoslovakia. Three of them (OKl27-117, then DRG 75 1302, OKl27-32, then DRG 75 1228 and OKl27-53, then DRG 75 1249) were impressed into ČSD service as class 358.0 and designated 358.0500, 358.0501 and 358.0502, respectively; the fourth (OKl27-4, then DRG 75 1204) was not re-designated. Their service with ČSD was brief and in 1947 all were returned to Poland. Seven OKl27s were found in Austria; all were taken over by Soviet authorities in 1947, but returned to PKP in a few days. Fourteen engines taken over by DB saw little service, if any. Together with hundreds of various untypical locomotives they were formally written off on December 13, 1951. In all, after the war, 95 OKl27s were given new PKP service numbers. Of these, OKl27-20 (pre-war OKl27-49, DRG 75 1245) was badly damaged and saw no service, to be written off in 1954 and scrapped. The above total number includes 27 engines that returned from Eastern Germany between 1949 and 1955 together with a number of other ones, on the basis of a mutual agreement. Most of these engines were in a very poor condition and were not even given new PKP service numbers. OKl27s were, however, an exception, as all were re-numbered and restored in service. Ultimate fate of five engines remains unknown. At first, these comparatively new, modern and valuable locomotives served mainly near Warsaw and in the Upper Silesia. Later, with mounting supplies of TKt48s (despite designation, they were designed for the same role!) and electrification, which progressed rapidly in suburban areas, they were scattered throughout the country.
Rapid withdrawal of this class began in early 70s. In 1972 PKP had ninety OKl27s, but until 1975 their number fell to 74 and in 1979 there was only one (plus three more, OKl27-41, -63 and -76, which served at the railway stock repair works in Łapy until 1985). The last machine in the PKP inventory, OKl27-10 (pre-war OKl27-25, DRG 75 1225, s/n 172/1930) was used for switching in Skierniewice locomotive depot until December 1979 and is now plinthed there. Three more locomotives of this class have survived, namely:
<![if !supportLists]>- <![endif]>OKl27-27 (pre-war OKl27-65, DRG 75 1254, s/n 227/1931) at Gdynia Grabówek loco depot,
<![if !supportLists]>- <![endif]>OKl27-41 (pre-war OKl27-91, DRG 75 1278, s/n 270/1932) at Chabówka rolling stock heritage park,
<![if !supportLists]>- <![endif]>OKl27-26 (pre-war OKl27-61, DRG 75 1253, s/n 223/1931), initially preserved at the Praga locomotive depot in Warsaw, finally found its way to the Railway Museum.
All of them are in good condition, but none is operational. Unfortunately, at least three withdrawn OKl27s were scrapped in the 1990s.
It should be noted that OKl27 was in fact the very first machine of entirely Polish origin; all earlier classes built in Poland had either German (Ok22, Ty23) or Austrian (Tr21, Os24) background. This certainly gives it a place in history.
Main technical data
| | | | |
| --- | --- | --- | --- |
| No. | Parameter | Unit | Value |
| 1. | Years of manufacture | - | 1928 – 1933 |
| 2. | Total built / used in Poland | - | 122 / 122 |
| 3. | Tender class | - | - |
| 4. | Axle arrangement | - | 1-3-1 |
| 5. | Design maximum speed | km/h | 80 |
| 6. | Cylinder bore | mm | 2 x 540 |
| 7. | Piston stroke | mm | 630 |
| 8. | Engine rating | kW/hp | 685 / 930 |
| 9. | Tractive effort | kG | 10 300 |
| 10. | Boiler pressure | MPa | 1.22 |
| 11. | Grate dimensions | m x m | 2.42 x 1.01 |
| 12. | Firebox heating surface | m2 | 11.44 |
| 13. | Distance between tube plates | mm | 4150 |
| 14. | Number of flue tubes | - | 123 |
| 15. | Heating surface of flue tubes | m2 | 73.6 |
| 16. | Number of smoke tubes | - | 24 |
| 17. | Heating surface of smoke tubes | m2 | 39.11 |
| 18. | Evaporating surface, total | m2 | 124.15 |
| 19. | Superheater heating surface | m2 | 42.2 |
| 20. | Diameter of drivers | mm | 1500 |
| 21. | Diameter of idlers front/rear | mm | 860 / 860 |
| 22. | Total weight, empty | kg | 67 6802) |
| 23. | Total weight, working order | kg | 85 1002) |
| 24. | Adhesive weight, working order | kg | 54 2002) |
| 25. | Weight with tender, empty | kg | - |
| 26. | Weight with tender, working order | kg | - |
| 27. | Maximum axle load | T | 16.81) |
| 28. | Axle base (with tender) | mm | 9 000 |
| 29. | Overall length (with tender) | mm | 12 8632) |
| 30. | Brake type | - | Westinghouse |
<![if !supportLists]>1) <![endif]>Adjusted from 16.0 to 17.5 tonnes (from OKl27-21 onwards, 18.2 tonnes) by changing suspension levers mounting.
<![if !supportLists]>2) <![endif]>Up to OKl27-20 inclusive: overall length 12 613 mm, weight empty 61 500 kg, in working order 80 800 kg, weight on drivers 51 800 kg.
List of vehicles can be found here.
References and acknowledgments
<![if !supportLists]>- <![endif]>Monographic article by Paweł Terczyński (SK vol. 1/1998);
<![if !supportLists]>- <![endif]>www.parowozy.best.net (website by  Michał 'Doctor' Pawełczyk)
<![if !supportLists]>- <![endif]>AP, PPN, LP;
<![if !supportLists]>- <![endif]>www.psmk.org.pl. (entry on OKl27 by Tomisław Czarnecki);
<![if !supportLists]>- <![endif]>monographic article by Tomisław Czarnecki (SS vol. 140 and 141);
<![if !supportLists]>- <![endif]>www.beitraege.lokomotive.de.