<![if !vml]>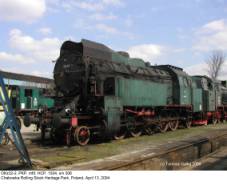 <![endif]>
OKz32-2 (HCP 306/1934), preserved at Chabówka loco heritage park; photo taken on April 13, 2004
<![if !vml]>

<![endif]>
OKz32 side drawing from PNP (original version without smoke lifters)
<![if !vml]>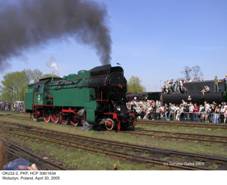 <![endif]>
OKz32-2 participated in the traditional 'Steam Locomotive Parade' at the Wolsztyn depot on April 30, 2005…
<![if !vml]>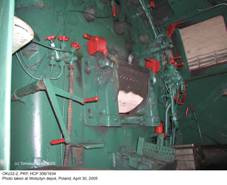 <![endif]>
… which gave me an occasion to photograph cab interior. More photos taken during that event can be found here.
Several photos taken during the 2007 parade can be seen here.
<![if !vml]>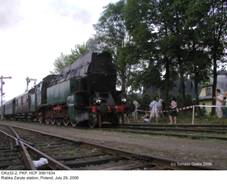 <![endif]>
On July 29, 2006, OKz32-2 made an impressive appearance at the locomotive parade organized by the Chabówka railway stock heritage park. This photo was taken at the Rabka Zaryte station.
<![if !vml]>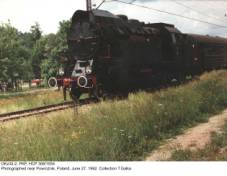 <![endif]>
Three pictures of the Okz32-2, taken on June 27, 1992, with a special train: near Powroźnik…
<![if !vml]>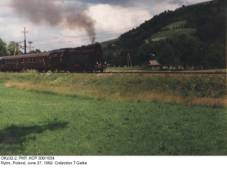 <![endif]>
… in Rytro…
<![if !vml]>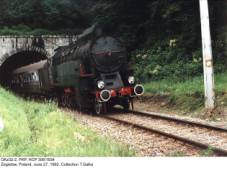 <![endif]>
…and in Żegiestów. Photos by Wojciech Szpigiel (from my collection).
<![if !vml]>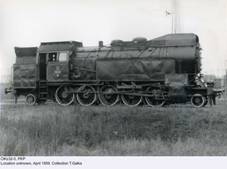 <![endif]>
OKz32-5, location unknown, August 1959. Photo from my collection.
<![if !vml]>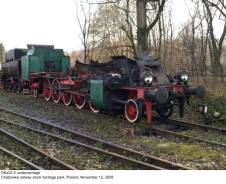 <![endif]>
In 2008, OKz32-2 was scheduled for a major overhaul…
<![if !vml]>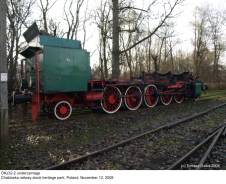 <![endif]>
…which gave an opportunity to photograph its undercarriage…
<![if !vml]>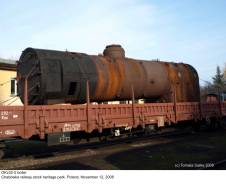 <![endif]>
…and boiler (ready for dispatch to Piła); all pictures taken on November 12, 2008.
<![if !vml]>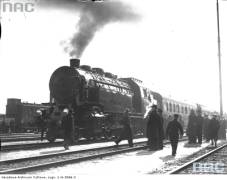 <![endif]>
Okz32-1, photographed in Zakopane in April 1934 during service tests. Source: National Digital Archives (www.nac.gov.pl). Used by permission.
<![if !vml]>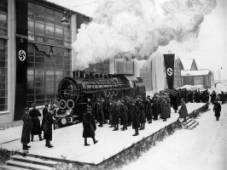 <![endif]>
This – somewhat odd-looking, possibly retouched – photo was taken at the Ostbahnausbesserungswerk Neu Sondez (railway repair works of Nowy Sącz) and shows the 1000th engine overhauled there – it happens to be the OKz32-3, HCP 304/1934, still with Polish service numbers. This particular loco later became 95 302 and was returned by DR in 1955, but not restored in service. Source: National Digital Archives (www.nac.gov.pl). Used by permission.
<![if !vml]>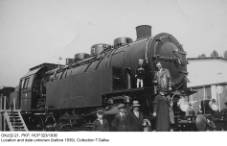 <![endif]>
Okz32-21 (HCP 323/1936), most probably photographed during some exhibition before 1939. Photo from my collection.
<![if !vml]>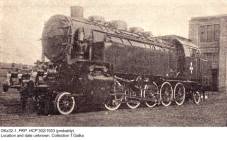 <![endif]>
A factory photo of (most probably) OKz32-1 (HCP 302/1933). This picture appeared in the December 1934 issue of the Technika Parowozowa (Steam Locomotive Engineering) monthly. From my collection.
<![if !vml]>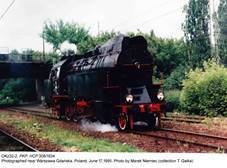 <![endif]>
OKz32-2 photographed during its visit to Warsaw on June 17, 1995. Photo by Marek Niemiec (from my collection).
Mountain lines in southern Poland, including important and very popular line between Kraków and Zakopane mountain resort, were initially a domain of ex-Austrian tender locomotives, mainly classes Ti12, Tp15, Ol12 and Tr11. In late 1920s they were supplemented with more modern ex-Prussian tank locomotives, mainly T14 and T141 (in the PKP service, TKt1 and TKt2, respectively). However, these 1-4-1 machines, with the tractive effort of 12.1 tonnes, proved too weak and not entirely successful, due to uneven weight distribution and unsatisfactory running qualities, especially for passenger traffic (despite designation, they were considered universal locomotives). New specification was thus submitted, for a locomotive capable of hauling 400-tonne drafts on that demanding line, with 25‰ gradients and tight curves. As travel between Kraków and Zakopane involved three direction changes (without turntables), tank engine was an obvious choice. The task of designing such machine was entrusted to the HCP (Cegielski) company design bureau. This company had had some experience with similar locomotives, having built heavy tank engines with 1-6-2 axle arrangement for Bulgarian state railways BDŽ (class 46 – twelve examples delivered in 1931 were at that time the heaviest tank engines in Europe; later they were supplemented with nine similar, but slightly heavier three-cylinder locomotives from BMAG).
Demands of moderate axle load and high tractive effort on steep gradients resulted in five driven axles. The 1-5-2 layout was at first contemplated, in order to allow for higher coal and water capacity, but 1-5-1 was finally chosen due to better running qualities it offered, especially at tight curves. It may be of interest to note that, within the designation system used by PKP, no provision had been made for 1-5-2 arrangement – as well as for 1-6-2s, built by HCP for Bulgarian railways! Even with drivers of moderate diameter (1450 mm) the layout finally selected resulted in a long machine – almost 2.5 metres longer than OKl27. Boiler was patterned upon that of late production Ty23s with five rows of flues, but shorter. Despite increased boiler pressure, this resulted in slightly lower efficiency, as superheater surface was reduced. Belpaire firebox was supplanted with a conventional one. Engine cylinders, valve gears and brakes were the same as in Pu29 and Pt31 express locomotives, many other elements and fittings were also of standarized types. Front and rear Krauss-Helmholtz trucks were used. Few modifications were introduced during production; the most important was enlarged rear water-box from OKz32-17 onwards.
OKz32 prototype was rolled out in March 1934 and service tests began in April. Results were entirely satisfactory, so a batch of 25 machines was ordered immediately. Fourteen examples were built in 1934, six in 1935 and five in 1936; these orders, although small, were of vital importance for HCP. All these engines were based in Kraków and served in southern Poland. As with most Polish locomotives, in September 1939 they were divided between Germany (17 examples, impressed into DRG service as class 953, numbers 95 301 through 95 317) and the Soviet Union (the remaining eight). Those captured by Soviets were converted to 1524 mm track and served mainly in southern Ukraine and western Byelorussia. OKz32-10 was later captured by Germans and impressed into service as 95 318. According to PNPP, the remaining seven Soviet machines were used by MPS and last of them were written off in early 1960s (some sources give that they were designated OK.32 plus pre-war PKP service number). None ever returned to Poland. In 1945 only eight machines were taken over by PKP. In 1948, OKz32-6 was returned (DRG 95 304, later transferred to ÖBB and then taken over by Soviet NKPS). Two more followed in 1949: OKz32-20 (DRG 95 313), returned by DR, and OKz32-19 (DRG 95 312), initially taken over by ČSD, but not impressed into service. OKz32-16 (DRG 95 311), which also ended up in Czechoslovakia, was not returned, although EZ gives its post-war service number OKz32-12. Last, 12th machine (OKz32-3, DRG 95 302) returned from Eastern Germany in 1955, but due to bad condition was not restored in service and was scrapped in 1956. OKz32-9 (DRG 95 307) and OKz32-10 (DRG 95 318) remained in Western Germany; these untypical machines aw little, if any, service with DB and were written off in December 1951. According to PNPP, the remaining four German engines were taken over by MPS, retaining their DRG service numbers; their ultimate fate remains unknown.
Eleven OKz32s impressed into PKP service after WWII were all grouped in Kraków and then, in early 1950s, transferred to Sucha Beskidzka, where they remained for the rest of their lives. They were seldom, if ever, used on lines other than Kraków-Zakopane, for which in fact they had been designed. Modifications were few and rather typical: steel fireboxes, Trofimov piston valves, cab modifications, boiler circulation tubes and some minor changes. In 1960s OKz32-1, -6 and -9 were fitted with short smoke lifters, while the remaining engines were given long ones, extending back to the second sand dome. Service of these locomotives was very intensive and this contributed to comparatively early withdrawal: in fact they were outlived by some older classes. First of them (OKz32-7) was written off in October 1971 and last three examples (OKz32-2, -8 and -9) survived until mid-1974. Only one engine of that class has been preserved: OKz32-2 (HCP 306/1934, pre-war OKz32-5, DRG 95 303), withdrawn from service on June 5, 1974, was plinthed in Tarnowskie Góry (for reasons really hard to explain – Zakopane would have been much more appropriate!), but then it was repaired and restored in service in December 1991. This machine is now at the rolling stock heritage park in Chabówka and from time to time hauls special trains. OKz32-9 (HCP 310/1934) was in April 1975 transferred to an industrial plant in Łańcut and for some time served as a stationary boiler, to be scrapped later.
It is of interest to note that post-war TKt48, with the same drivers' diameter, was designated as a freight engine, although in fact it was used for similar tasks. These machines were, however, substantially weaker, having the tractive effort of only 11.6 tonnes, and were used mainly for suburban traffic. OKz32s were supplanted by electric locomotives: the Kraków-Zakopane line was finally electrified in 1975.
Main technical data
| | | | |
| --- | --- | --- | --- |
| No. | Parameter | Unit | Value |
| 1. | Years of manufacture | - | 1934 – 1936 |
| 2. | Total built / used in Poland | - | 25 / 25 |
| 3. | Tender class | - | - |
| 4. | Axle arrangement | - | 1-5-1 |
| 5. | Design maximum speed | km/h | 75 |
| 6. | Cylinder bore | mm | 2 x 630 |
| 7. | Piston stroke | mm | 700 |
| 8. | Engine rating | kW/hp | 1380 / 1865 |
| 9. | Tractive effort | kG | 17 200 |
| 10. | Boiler pressure | MPa | 1.53 |
| 11. | Grate dimensions | m x m | 2.366 x 1.61 |
| 12. | Firebox heating surface | m2 | 13.5 |
| 13. | Distance between tube plates | mm | 4500 |
| 14. | Number of flue tubes | - | 154 |
| 15. | Heating surface of flue tubes | m2 | 100.0 |
| 16. | Number of smoke tubes | - | 40 |
| 17. | Heating surface of smoke tubes | m2 | 70.6 |
| 18. | Evaporating surface, total | m2 | 184.1 |
| 19. | Superheater heating surface | m2 | 66.0 |
| 20. | Diameter of drivers | mm | 1450 |
| 21. | Diameter of idlers front/rear | mm | 860 / 860 |
| 22. | Total weight, empty | kg | 95 840 |
| 23. | Total weight, working order | kg | 118 4001) |
| 24. | Weight on drivers, working order | kg | 85 000 |
| 25. | Weight with tender, empty | kg | - |
| 26. | Weight with tender, working order | kg | - |
| 27. | Maximum axle load | T | 17.0 |
| 28. | Axle base (with tender) | mm | 11 700 |
| 29. | Overall length (with tender) | mm | 15 320 |
| 30. | Brake type | - | Westinghouse |
<![if !supportLists]>1) <![endif]>Some sources give 116 600 kg – possibly this refers to the variant with smaller rear water-box.
List of vehicles can be found here.
References and acknowledgments
<![if !supportLists]>- <![endif]>www.parowozy.best.net (website by Michał 'Doctor' Pawełczyk);
<![if !supportLists]>- <![endif]>monographic article by Paweł Terczyński (SK vol. 4/1997);
<![if !supportLists]>- <![endif]>PNPP, PNP, AP, LP;
<![if !supportLists]>- <![endif]>www.lokomotive.de/lokomotivgeschichte/datenbank (Ingo Hütter's database).