<![if !vml]>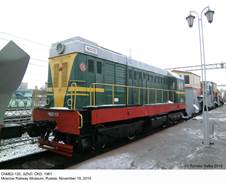 <![endif]>
Predecessor to Soviet class ChME3 (and Polish S200) was four-axle ChME2, supplied in fairly large numbers. ChME2-120, built in 1961, is currently on display at the Moscow Railway Museum; November 19, 2015.
<![if !vml]>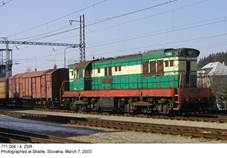 <![endif]>
ŽSR 771.054-4, photographed at Skalite, Slovakia, on March 7, 2003.
<![if !vml]>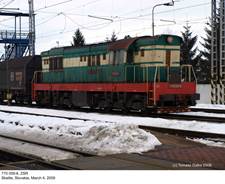 <![endif]>
ŽSR 770 058-6, photographed at the same location almost exactly six years later, on March 4, 2009.
<![if !vml]>

<![endif]>
T669 drawing by ČKD, from AV vol.2
<![if !vml]>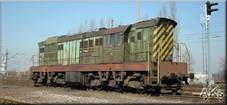 <![endif]>
This S200-284, operated by NZGTK, was photographed at the Piast colliery on March 24, 2003…
<![if !vml]>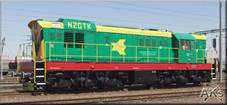 <![endif]>
…while this S200-276, also from NZGTK, photographed at the same location on May 5, 2003, displays a new livery. Both photos by A. Kabała (www.lokomotywy.republika.pl – thanks a lot for permission!).
<![if !vml]>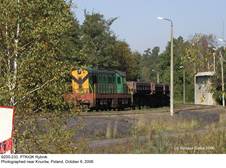 <![endif]>
S200-233, PTKiGK Rybnik, photographed near Knurów on October 6, 2006.
<![if !vml]>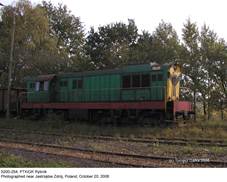 <![endif]>
S200-254, PTKiGK Rybnik, photographed in Jastrzębie Zdrój on October 20, 2006...
<![if !vml]>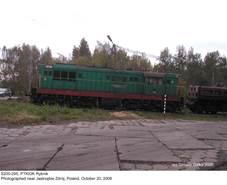 <![endif]>
...and S200-295 from the same company, heading for a spoil bank near Borynia colliery; photo taken on the same day.
<![if !vml]>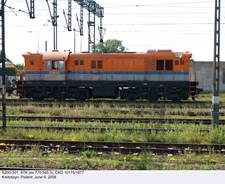 <![endif]>
S200-301, STK (ex 770 540-3), photographed in Krotoszyn on June 9, 2008.
<![if !vml]>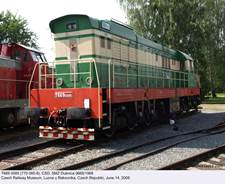 <![endif]>
T669 0085, ČSD, Czech railway museum, Lužna u Rakovnika, June 14, 2008.
<![if !vml]>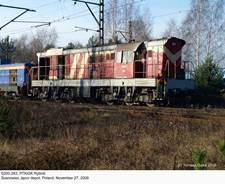 <![endif]>
S200-283, PTKiGK Rybnik, photographed near the Sosnowiec Jęzor depot on November 27, 2009.
<![if !vml]>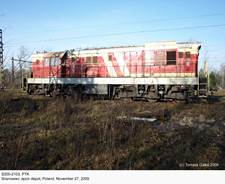 <![endif]>
S200-2103, also from this company, photographed on the same occasion. More pictures of S200s operated by PTKiGK Rybnik can be found here.
<![if !vml]>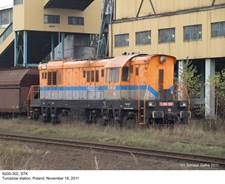 <![endif]>
S200-302, STK, photographed at the Turoszów station on November 18, 2011.
<![if !vml]>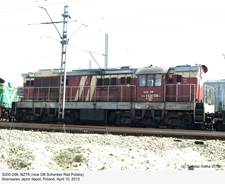 <![endif]>
S200-296, DB Schenker Rail Polska (still in old NZTK livery, photographed at the Sosnowiec Jęzor depot on April 10, 2012.
<![if !vml]>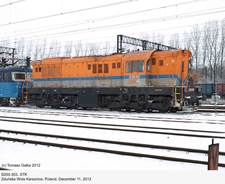 <![endif]>
S200-303, operated by STK; Zduńska Wola Karsznice, December 11, 2012.
<![if !vml]>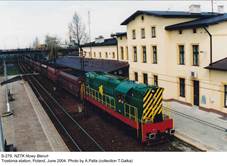 <![endif]>
S-279 from the NZTK Nowy Bieruń fleet, photographed in Trzebinia in June 2004. Photo by A.Palla (from my collection).
<![if !vml]>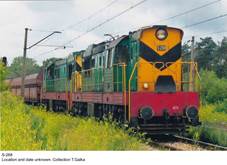 <![endif]>
S-268 and another S-200 double-heading a heavy freight train somewhere in Upper Silesia, date unknown. Photo from my collection.
<![if !vml]>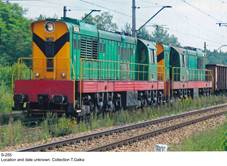 <![endif]>
Similar task is performed by S-255 and another S-200. Photo from my collection.
<![if !vml]>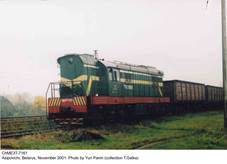 <![endif]>
Three photos of ChME-3s. This ChME3T-7161 was photographed in Asipovichi, Belarus, in November 2001. Photo by Yuri Panin (from my collection).
<![if !vml]>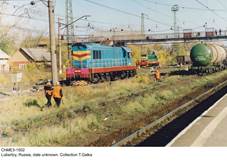 <![endif]>
ChME3-1502, Lubertzy, Russia, date unknown. Photo from my collection.
<![if !vml]>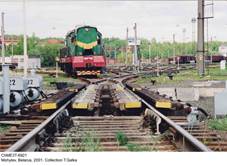 <![endif]>
ChME3T-6921, Mohylev, Belarus, 2001. Photo from my collection.
<![if !vml]>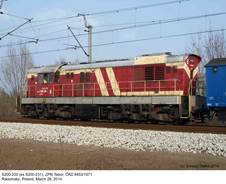 <![endif]>
S200-200 (formerly S200-231) was sold by DB Schenker Polska to Tabor private operator in 2013; photographed in Radomsko on March 28, 2014.
<![if !vml]>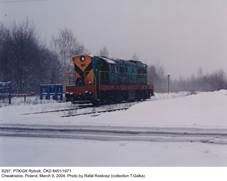 <![endif]>
S297, photographed in Chwałowice on March 9, 2004. Photo by Rafał Roskosz (from my collection).
<![if !vml]>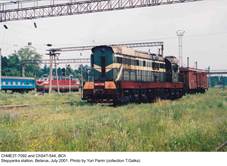 <![endif]>
ChME3T-7092, Belarussian railways, with the ChS4T-544 in the background. Stepyanka, Belarus, July 2001. Photo by Yuri Panin (from my collection).
<![if !vml]>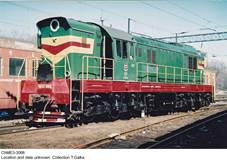 <![endif]>
All I know about this photo is that the locomotive is ChME3-3066. From my collection.
<![if !vml]>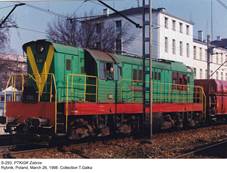 <![endif]>
S-293 (ČKD 14484/1986), operated by PTKiGK Zabrze, Rybnik, March 26, 1998. This locomotive has already been withdrawn. Photo from my collection.
<![if !vml]>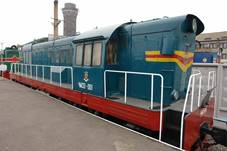 <![endif]>
First ChME3 delivered to the USSR: ChME3-001, built in 1963, on display at the Varshavskiy railway station in St. Petersburg. Photo by George Shuklin (www.commons.wikimedia.org).
<![if !vml]>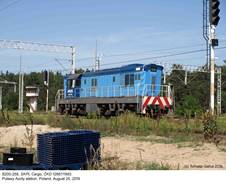 <![endif]>
S200-258 (ČKD 12667/1983), photographed at the Puławy Azoty station on August 25, 2019. This locomotive was originally purchased for PTKiGK Rybnik, then taken over by DB Schenker / DB Cargo Polska and sold to SKPL Cargo private operator in August 2017.
<![if !vml]>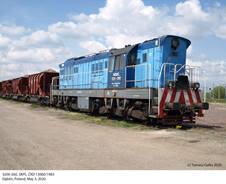 <![endif]>
S200-260 (ČKD 13060/1983), originally purchased for industry, was taken over by DB Schenker Rail Polska in 2010 and sold to SKPL in 2016. Photographed in Dęblin on May 3, 2020.
<![if !vml]>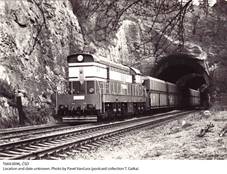 <![endif]>
Czechoslovakian T669.0096, location and date unknown. Photo by Pavel Vančura (postcard from my collection).
Although locomotives designated S200 were built in Czechoslovakia and are used in Poland, their origin can be traced in the USA and the USSR.
To begin with, during the first half of 1945 68 heavy diesel switchers with electric transmission from the ALCO RS family were supplied to the USSR. These machines of Bo'Bo' layout had axle load of almost 30 tonnes, quite high for European and especially Russian standards, so they were supplied in a modified six-axle (Co'Co') version. Designated Da20 (Дa20 in Russian script) and later simply Da for Diesel-ALCO, they were much more modern than contemporary Soviet counterparts, so their clones were promptly ordered in quantity as TE1 (road diesels built in Kharkov between 1947 and 1949) and TEM1 (switchers built in Bryansk between 1958 and 1968). TEM1 was further developed into what finally became the most prolific family of Russian diesel switchers; its offspring includes the TEM2, used in Poland in fairly large numbers and designated SM48 (described under a separate entry).
The demand for heavy switchers in the USSR was much higher than capabilities of national locomotive industry, so large orders were also placed with Czechoslovakian manufacturers. ČKD factory of Prague had supplied considerable number of ChME2 (ЧМЭ2 in Russian script) machines, roughly equivalent to Czechoslovak classes T435 and T458 (522 examples purchased by the USSR between 1958 and 1965). These locomotives were considered very reliable, but too light for most tasks, so there was a demand for a switcher with the tractive effort of TEM1 and reliability of ChME2. Although preliminary drafts of such machine were prepared in a hotel room in Moscow, in conditions hardly resembling a design office, they resulted in a successful locomotive that remained in production for over thirty years, with 8200 examples built. In Czechoslovakia they were designated T669 (after 1995, class 770 or 771, depending on the particular variant). Vast majority (7455 machines) went to the USSR, where they served as the ChME3 class; they still remain in service in the CIS. 402 examples went to ČSD and national industrial operators and the rest were exported to Albania (61, HSH class T669, delivered in six small batches between 1968 and 1990), India (12, for two steel plants, class DEC120), Iraq (100, class DES3100), Syria (25, class LDE1500) and Poland.
T669 or ChME3 makes an interesting comparison with its Soviet counterpart TEM2, as they both were developed from the same basic ALCO's design. They are similar in appearance and have similar ratings. In general, Czechoslovak machine is considered more reliable and having better overall workmanship quality, while the Soviet one is more robust and suited for operation in extreme weather conditions. Due to similar, slow-running (750 rpm) engines, both developed from American design, they also sound much the same – and loud. It is perhaps worth mentioning here that the crowning achievement of heavy diesel switcher design at the ČKD was the ChME5, an eight-axle (Bo'Bo'Bo'Bo'), 2000-hp machine. It was intended to build 2000 locomotives of this class for the USSR until the year 2000 (Communists always liked round figures), but in 2000 neither Czechoslovakia nor the USSR existed…
Both TEM2s and T669s were purchased for Polish railways. Contrary to the Soviet machine, used both by PKP (as SM48) and various industrial operators, Czechoslovak switchers were purchased mainly for metallurgical plants and sand railways in the Upper Silesia. These machines were supplied between 1966 and 1990 and classed S200. The reason for this odd practice (other locomotives used by industrial operators usually retained their factory type designation) is that 62 examples went to Lenin steelworks (now part of the Arcelor Mittal corporation), which had their own system. These steelworks were the largest single user of this class in Poland. All diesel locomotives were designated there by an alphanumerical symbol beginning with S: for example, S100 corresponded to the PKP class SM41 and S400 – to SM42. This was later extended over an entire class. In all, 143 examples were purchased. Two more (S-229 and S-230), damaged en route to Poland in 1977, were not delivered and remained in Czechoslovakia, becoming T669.0109 and T669.0540, respectively; their Polish designations were then used again. Further two (S-2140 and S-2141) of 1989 were also not delivered – for reasons unknown to me – and became T669.0538 and T669.0539, respectively. There is some confusion about service numbers. Initially locomotives delivered to the Lenin steelworks were numbered S201, S202 etc. This scheme was continued with other operators, so that the first locomotive delivered to sand railways became S229. S299 was followed not by S300, but by S2100, then came S2101 and so on. Many examples – especially those from sand railways – were later given re-arranged service numbers, so that S229 became S200-229. To complicate things even further, fourteen S200s were given new service numbers with new owners; as a result, numbers from S249 to S262 inclusive are used twice.
Despite rather obsolescent basic design, Polish S200s will probably remain in operation for a long time, hauling heavy trains on industrial lines and sidings; they had been designed for such tasks. In 2006 largest fleets of S200s were operated by PTKiGK Rybnik company (43 examples) and NZGTK company of Nowy Bieruń (14). Both these companies were later absorbed by DB Schenker Rail Polska; currently (mid-2014) this operator has a fleet of 33 examples. All locomotives owned by Arcelor Mittal Poland were transferred to newly-formed PUK Kolprem company, which now has 29 examples. Another major operator is Lubelski Węgiel (a company that operates collieries in the Lublin area – 16 examples). Several S200s were withdrawn and scrapped or sold; a few went back to Czech Republic or Slovakia.
In November 2006 a second-hand Czech machine appeared in Poland, namely 770.540-3 (ex T669.0540 – initially intended for Poland, but never delivered, operated by Doly Nástup Tušimice, ČKD 10175/1977). This locomotive was purchased by STK, a private operator specializing in the out-of-gauge cargo, and is currently designated S200-301. Later STK purchased also S200-302 (April 2008), S200-529 (November 2009) and S200-303 (June 2010). In August 2008, the 770.528-8 (ČKD 13556/1984) followed and joined the CTL Logistics fleet as S200-528; in February 2014 it was sold to Ecco Rail, a new company formed in 2011. Next example was 770.521-3 (ČKD 12101/1981), operated by a foundry in Ostrava until 2003, which arrived in April 2010 to join the Transoda fleet as S200-530. S200-512 (former 770.512) was purchased by Kolej Bałtycka in July 2011 and S200-304 (former 770 526-2, ČKD 13554/1984) by SKPL Cargo in April 2014. S200-304 returned to Czech Republic in February 2018; after an overhaul by CZ Loko it was sold to Albanian operator Albrail in May.
Modernizations of these locomotives were focused mainly at replacing obsolete and uneconomical K6S310DR engines with modern units. One machine (S-269) was modernized by PTKiGK Rybnik in 1996 and fitted with MTU 12V396TC14 12-cylinder diesel engine rated at 1050 kW and LSG-1200-90 generator with state-of-the-art control electronics. In the Czech Republic, ten machines were also modified and re-designated class 773; they have Caterpillar 3512DI-TA/2 engines rated at 1300 kW and lowered engine cowlings. Probably all are used by ČD as heavy freight road locomotives. Slovak modernization (class 772), with Pielstick 8PA4-185M4 engine, rated at 960 kW, and elegant streamlined silhouette, has remained a single example.
Main technical data
| | | | |
| --- | --- | --- | --- |
| No. | Parameter | Unit | Value |
| 1. | Years of manufacture | - | 1963 – 1995 |
| 2. | Total built / used in Poland | - | 8200 / 1491) |
| 3. | Axle arrangement | - | Co'Co' |
| 4. | Transmission type | - | electric |
| 5. | Design maximum speed | km/h | 90 |
| 6. | Prime mover type | - | K6S310DR4) |
| 7. | Engine rating | kW/hp | 993 / 1350 |
| 8. | Bore X stroke | mmXmm | 310 X 360 |
| 9. | Number of cylinders | - | 6 |
| 10. | Number of electric engines | - | 6 X TE006 |
| 11. | Rated output of electric engines | kW | 885 |
| 12. | Main reduction gear ratio | - | 76:152) |
| 13. | Diameter of drivers | mm | 1050 |
| 14. | Total weight | kg | 115 8003) |
| 15. | Axle load | T | 19.33) |
| 16. | Axle base | mm | 12 660 |
| 17. | Overall length | mm | 17 240 |
| 18. | Maximum width | mm | 3 150 |
| 19. | Train heating | - | - |
| 20. | Brake type | - | Oerlikon (?) |
<![if !supportLists]>1) <![endif]>Plus 4 examples not supplied to Poland; included six second-hand locomotives purchased until June 2010.
<![if !supportLists]>2) <![endif]>73:18 in Soviet machines (ChME3).
<![if !supportLists]>3) <![endif]>Some Czechoslovak versions 114 600 kg and 19.1 T, respectively.
<![if !supportLists]>4) <![endif]>MTU 8V396TC14 785 kW in the modernized version.
References and acknowledgments
<![if !supportLists]>- <![endif]>AV vol. 2;
<![if !supportLists]>- <![endif]>www.kolejowaklatka.org (website by Marek Dąbrowski);
<![if !supportLists]>- <![endif]>SK, various issues;
<![if !supportLists]>- <![endif]>www.spz.logout.cz.