<![if !vml]>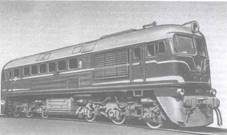 <![endif]>
Second prototype M62-2. Photo from LOZD vol.2.
<![if !vml]>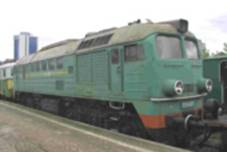 <![endif]>
ST44-001, PKP, Railway Museum, Warsaw, Poland, July 23, 2002.
<![if !vml]>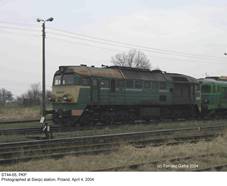 <![endif]>
ST44-65 in very good shape (still in use?) photographed in Sierpc, April 4, 2004; ST43-395 can be seen in the background.
<![if !vml]>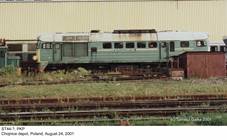 <![endif]>
ST44, number unknown (not 99), PKP, at Chojnice loco depot, probably awaiting scrapping, August 24, 2001.
<![if !vml]>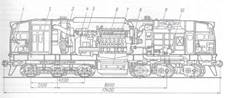 <![endif]>
M62 drawing, from LOZD vol.2.
Several pictures of foreign M62s can be found here.
<![if !vml]>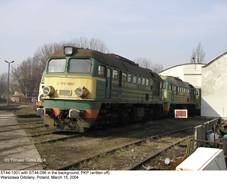 <![endif]>
Two written-off ST44s (-1001 with -096 in the background), Warsaw Odolany loco depot, March 15, 2004.
<![if !vml]>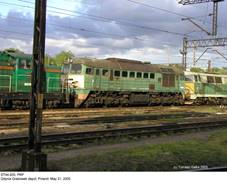 <![endif]>
ST44-935, photographed at Gdynia Grabówek depot on May 31, 2005; this machine has probably been written off.
<![if !vml]>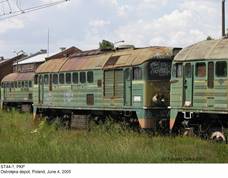 <![endif]>
Derelict ST44s can be seen at many locations.  This example (number unknown)…
<![if !vml]>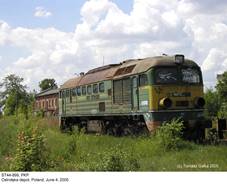 <![endif]>
… and this ST44-899 were photographed at Ostrołęka depot on July 4, 2005.
<![if !vml]>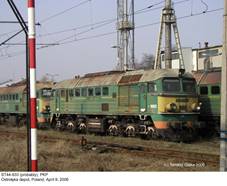 <![endif]>
Another 'Gagarin' at Ostrołęka depot: this one is probably ST44-933. Photo taken on April 9, 2006...
<![if !vml]>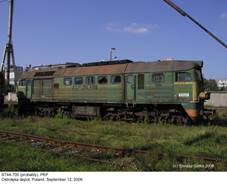 <![endif]>
... and yet another, probably ST44-700, photographed on September 12, 2006.
<![if !vml]>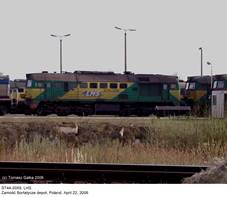 <![endif]>
LHS broad-gauge railway depot at Zamość Bortatycze is a good place to spot a ST44. This ST44-2059...
<![if !vml]>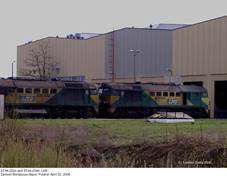 <![endif]>
...and this pair – ST44-2024 and ST44-2046 – were photographed there on April 22, 2006...
<![if !vml]>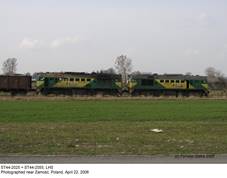 <![endif]>
...while this picture, taken on the same occasion, shows ST44-2025 and ST44-2055 double-heading a heavy freight train.
Many second-hand 'Gagarins' are used by various private railways; some photos can be found here.
<![if !vml]>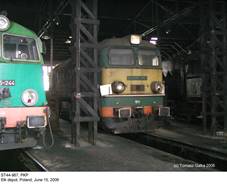 <![endif]>
ST44-967, photographed inside the Ełk shed on June 15, 2006.
<![if !vml]>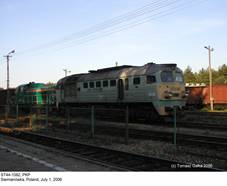 <![endif]>
ST44-1082 at the Siemianówka transfer station; photo taken on July 1, 2006.
<![if !vml]>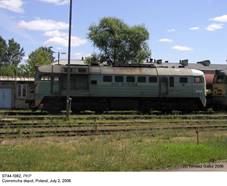 <![endif]>
Another picture of the ST44-1082, taken at the Czeremcha depot on the next day...
<![if !vml]>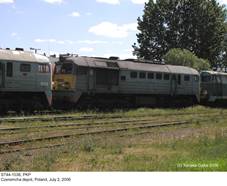 <![endif]>
...and ST44-1038, photographed on the same occasion.
<![if !vml]>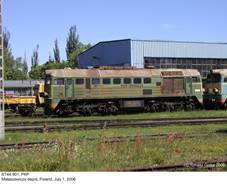 <![endif]>
ST44-901, Małaszewicze depot, July 2, 2006.
<![if !vml]>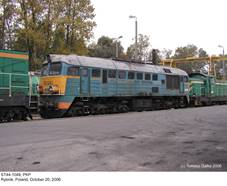 <![endif]>
ST44-1049, Rybnik, October 20, 2006.
<![if !vml]>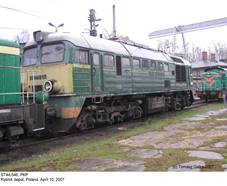 <![endif]>
Two more pictures from Rybnik, taken on April 10, 2007: ST44-546...
<![if !vml]>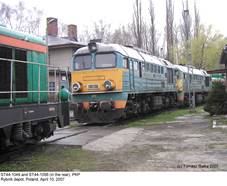 <![endif]>
...and ST44-1049 with ST44-1056 in the background.
<![if !vml]>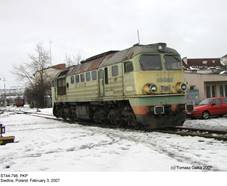 <![endif]>
This ST44-798 was photographed in Siedlce on February 3, 2007.
<![if !vml]>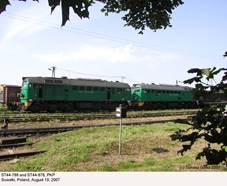 <![endif]>
ST44-788 and ST44-878, photographed in Suwałki on August 19, 2007.
<![if !vml]>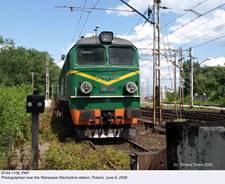 <![endif]>
'Gagarins' are not frequent visitors to Warsaw. This ST44-1106 was photographed at the Warszawa Wschodnia station on June 6, 2008.
<![if !vml]>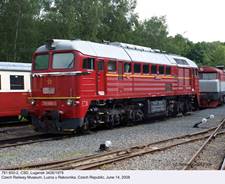 <![endif]>
Beautifully preserved 781 600-2 from the collection of the Czech railway museum, Lužna u Rakovnika. Photo taken on June 14, 2008.
<![if !vml]>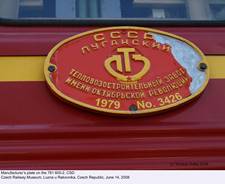 <![endif]>
Manufacturer's plate on the 781 600-2.
<![if !vml]>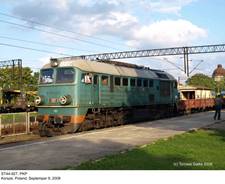 <![endif]>
ST44-927, PKP, Korsze, September 9, 2008. Roof-painted service number is not very typical.
<![if !vml]>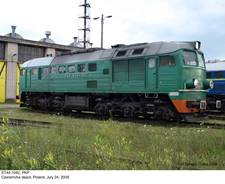 <![endif]>
Four pictures, taken at the Czeremcha depot on July 24, 2009: ST44-1082…
<![if !vml]>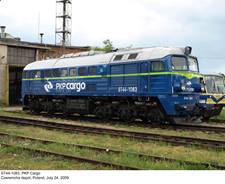 <![endif]>
… ST44-1083, displaying new PKP Cargo livery…
<![if !vml]>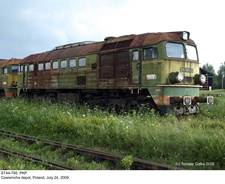 <![endif]>
…and two withdrawn locomotives, probably awaiting scrapping: ST44-795…
<![if !vml]>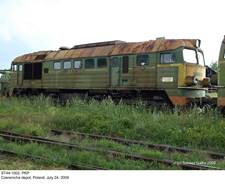 <![endif]>
…and ST44-1002.
<![if !vml]>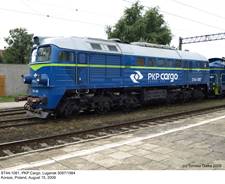 <![endif]>
ST44-1081, Korsze, August 15, 2009.
<![if !vml]>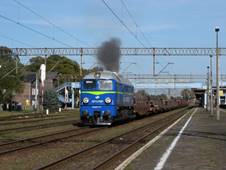 <![endif]>
ST44-717 in the new PKP Cargo livery, photographed in Krzyż on September 21, 2010, by Chris West (thanks for permission!). Several more pictures of ST44s/M62s from my collection can be found here. More photos of 'Gagarins' awaiting dispatch to Northern Korea and Germany can be found here.
<![if !vml]>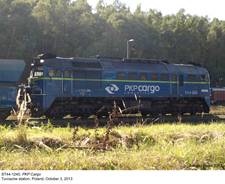 <![endif]>
Modernized ST44-1240, PKP Cargo, photographed at the Turoszów station on October 3, 2013.
<![if !vml]>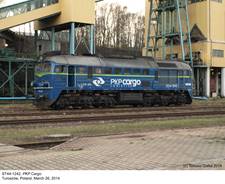 <![endif]>
ST44-1242, photographed at the same location on March 26, 2014.
<![if !vml]>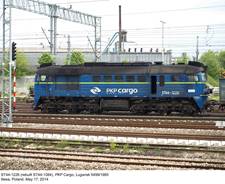 <![endif]>
Modernized ST44-1226 (rebuilt from ST44-1084), Ilawa station, May 17, 2014.
<![if !vml]>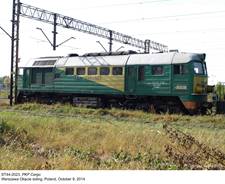 <![endif]>
ST44-2023, PKP Cargo, photographed at the Warszawa Okęcie siding on October 9, 2014.
<![if !vml]>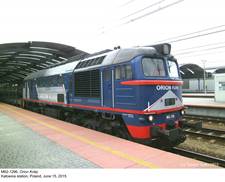 <![endif]>
Two pictures taken at the Katowice station on June 15, 2015: M62-1296, Orion Kolej (second-hand Estonian locomotive)…
<![if !vml]>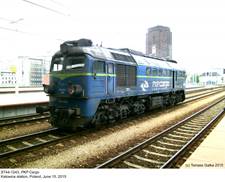 <![endif]>
…and ST44-1243 (rebuilt ST44-927) from the PKP Cargo fleet.
<![if !vml]>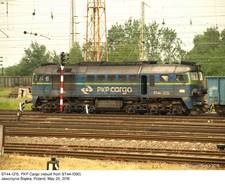 <![endif]>
ST44-1215 (rebuilt ST44-1090), photographed at the Jaworzyna Śląska station on May 25, 2016.
<![if !vml]>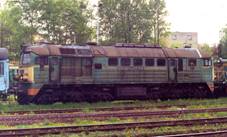 <![endif]>
'Five fours': ST44-444, Rybnik, April 1999. Photo by Mariusz Plewka (used by permission).
<![if !vml]>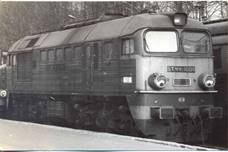 <![endif]>
The same author and location: ST44-1006, 1990.
<![if !vml]>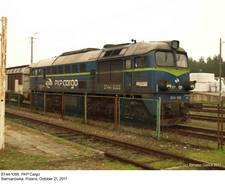 <![endif]>
ST44-1099, PKP Cargo, Siemianówka, October 21, 2017.
<![if !vml]>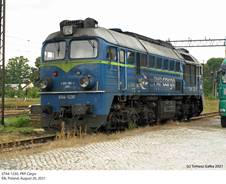 <![endif]>
Modernized ST44-1230 (ex ST44-668), PKP Cargo, photographed in Ełk on August 20, 2021.
When first prototype of M62 heavy diesel freight locomotive was completed in Lugansk in 1964, no-one probably could predict that this was the birth of one of the most widely used and popular European diesels, destined to achieve a sort of cult status among some railway fans.
The story began not in the USSR, but in Hungary. In mid-1950s production of mainline steam locomotives in the Eastern bloc was terminated, following the Soviet example. Hungarian state railways MÁV had at that time enough freight engines, so new motive power was not ordered in quantity, apart from medium switchers, built in considerable numbers, also for export (including PKP – classes SM40 and SM41). However, with mounting freight traffic and modest extent of electrification, new locomotives soon became necessary. Following the failure of the indigenous V601 design in 1958, it was decided to purchase diesels abroad. What the USSR could offer was the TE10, already in production at Kharkov works, but this 138-tonne, 3000 hp locomotive was too heavy. A 'historical' decision was thus taken in 1962 to order a small batch of twenty Swedish NOHAB freight diesel locomotives, designated M61. This was a challenge that 'Big Brother' had to meet! The task to develop a suitable design was entrusted to the Lugansk (then Voroshilovgrad) diesel locomotive works, founded in 1896 to manufacture steam locomotives (now JSC Luganskteplovoz, Ukraine). Being officially ordered by MÁV, the new locomotive was designated M62. It was rated at 2000 hp, 50 hp more than M61, but not fitted with car heating. Two prototypes (M62-1 and M62-2), built in 1964, were intended for tests and fitted with 1524 mm trucks.
It was soon realized that M62 had a potential that far exceeded the needs of MÁV. Now-forgotten CMEA (Council for Mutual Economic Aid) tried – often in vain – to rationalize production of various kinds of machinery and industrial equipment in the former East European bloc. Motive power was, of course, also included in such considerations – partly, or perhaps primarily, due to its military role in future conflict – and it was decided to concentrate production of heavy diesel mainline locomotives in the USSR. M62 production for foreign customers other than MÁV started in 1965. Despite being intended mainly for export, some machines were also built for Soviet railways and industrial operators, but their number, compared to other types, was not very large; they were designated M62S (M62C in Russian script), but in practice the suffix S was omitted. More 'typical' Soviet designation TE112 (TЭ112 in Russian script), wherein 'T' stood for diesel locomotive and 'E' for electric transmission, was proposed, but never used. According to some Russian sources, decision to order M62s for Soviet operators was taken following the intervention in Czechoslovakia: it was realized that it was the sole domestic design already in production that fitted the European vehicle gauge! Production and distribution of these locomotives was thus under military control: they could be easily fitted with European gauge trucks and intended for immediate mobilization in a case of a war in Europe. Hopefully they will never see one.
M62 is a fairly conventional and simple machine, powered by low-speed (750 rpm) 14D40 two-stroke supercharged diesel engine (produced by the Kolomna engineering works and, according to some sources, derived from a marine diesel – itself cloned from a GMC design of 1936!) and fitted with electric transmission. During the production period some modifications were introduced, concerning mainly electrical equipment; most important of these was replacement of ED-107 electric motors with modified ED-118As of slightly increased maximum output. Later examples were fitted with slightly improved diesel engines. In service, these locomotives proved strong and robust, but fuel and oil consumption is, by current standards, very high. Specific fuel consumption, according to the manufacturer's specification, is 160 g/hp×h and oil consumption at rated power is given at about 4.5 kg/h, but these values were often exceeded. M62 is also exceptionally noisy, even with roof-mounted exhaust silencers (reducing output by some 35 kW), quite soon introduced as standard. Accounts given by former railway engineers are full of vivid descriptions of those acoustic effects. Furthermore their impact on track is considered destructive.
A twin version of the M62 – logically designated 2M62 – was also developed at Lugansk and went into production in 1976. This locomotive was intended as a replacement for the obsolescent twin-section TE3 freight diesel, production of which was terminated in 1973. Total output was 1649 units (some sources give 1650 or 1653), including the improved version 2M62U, which appeared in 1987 and featured improved trucks, increased fuel capacity and modified exhaust silencers. These machines, intended for heavy freight trains, still remain in service in Russia and ex-Soviet republics, but have never been used abroad, except for Mongolia and ten examples, temporarily leased to Iran from Ukraine in 1988. 2M62K (one example) is 2M62 retrofitted with the D49 diesel engine; similar conversion of 2M62U is designated 2M62UK (at least eight examples). 104 (some sources give 99) examples of 3M62U triple-unit monster, which appeared in 1986, were also delivered to SŽD, plus three 3M62Ps for use at Baikonur space center (now in Kazakhstan). Designation 3M62UK has been applied in 2008 for locomotives fitted with D49s during major overhauls – until now (late 2009) at least four.
As with most Soviet machines, it is quite difficult to estimate the total number built. According to the manufacturer's website, there were over fifteen distinct variants for domestic use and export. Comprehensive statistics, published by Ryszard Rusak in SK, give 7164 individual sections (5231 machines – including two- and three-section units). This is probably the most competent source in Polish, so the following numbers are based mainly on it:
<![if !supportLists]>- <![endif]>Soviet Union: 723 machines supplied to SŽD (including two prototypes), production lasting from 1970 to 1976 (LOZD gives the same number), plus 154 DM62s for Soviet military railways (BŽRK, which roughly translates as 'Military Railway-Rocket Complex') and 40 M62UPs for various industrial operators – 917 examples in all. In early 21st century several DM62s were transferred to Russian railways RŽD, as the military were then on tight budget; their designations were probably retained. According to http://scado.narod.ru, between 1989 and 1990 additional 13 M62Us were accepted, being basically single 3M62U sections;
<![if !supportLists]>- <![endif]>Hungary: 288 machines for MÁV (including 18 for 1524 mm track) and 6 for GySEV (Györ-Sopron-Ebenfurth railway) between 1965 and 1979;
<![if !supportLists]>- <![endif]>Czechoslovakia: 599 machines (designated class T679.1) and 25 for 1524 mm track (class T679.5) for ČSD – later all re-designated class 781 – plus two wide-track machines for Slovakian industrial operators, between 1966 and 1974;
<![if !supportLists]>- <![endif]>East Germany: 378 machines for DR (designated V200, then BR120), plus 18 for industrial operators, between 1966 and 1978;
<![if !supportLists]>- <![endif]>Northern Korea: 54 machines (excluding second-hand ones – see later) for KRZ railways, designated class LH01, plus two for industrial operators, supplied between 1967 and 1995 in several small batches;
<![if !supportLists]>- <![endif]>Mongolia: 13 singles (M62UM) and 66 twin units (2M62M), 1524 mm track, supplied to MTZ railways between 1980 and 1990 (some sources give 127 machines);
<![if !supportLists]>- <![endif]>Cuba: 20 machines, designated M62K (FCC class 61), with de-rated 1690 hp engines and modified cooling system, supplied between 1974 and 1975.
Thus, simple arithmetics give – together with Polish ST44s – 3528 M62s built for all customers. Perhaps this number is correct.
According to the manufacturer's website www.contact-teplovoz.lugansk.ua, M62U is still offered, as well as twin and triple units, although it is not clear whether these are new or second-hand overhauled machines. Proposed modernization packages include four-stroke D49 or D80 diesels, new cooling systems and exhaust silencers plus numerous minor improvements; fuel consumption reduction is given as 15 to 20%, which is accompanied by oil consumption reduction by four (!) times. Many M62s, operated by various companies in former Soviet republics, have recently been fitted with 12ChN26/26 (12ЧН26/26 in Russian script) four-stroke V-12 diesels, supplied by Russian OAO Kolomenskiy Zavod company, also rated at 2000 hp, but with better economy (fuel and oil consumptions at rated power reduced by 20% and 35%, respectively). M62U is a variant with modified electric systems (only one)
Poland eventually turned out to be the largest foreign customer. The need for such locomotives resulted from gradual withdrawal of steam power from heavy freight service in the 60s. Just as with MÁV, soon came the motive power shortage, forcing purchase of 200 TE (ex-DRG BR52) second-hand steam freighters from the USSR. Obviously this was only a stop-gap. For political rather than economic reasons, M62 was chosen as a replacement, although substantial numbers of Romanian 060DA (CFR class 60) diesels, classed ST43, were also imported. Large purchases of M62s, classed ST44 with PKP, killed the indigenous SU46 program; although the latter type was clearly superior, its production at HCP in Poznań was kept at a very low rate and finally halted in 1977, after only 52 had been built (two more followed in 1985). First four ST44s (factory numbers 053 through 056) arrived in 1965 and, in all, 1194 examples were imported, including 1113 standard machines for 1435 mm track, 68 wide-track machines for Poland's only 1524 mm line and one M63, with different trucks (as in Soviet M62U) and up-rated electric engines; the latter had out-of-sequence service number ST44-1500. Nine locomotives of this type were purchased by Płock oil refinery (now a part of the Orlen petroleum company) and three by Silesian sand railways, their original M62 designation being retained with these operators. In early 80s, on the wake of political and social unrest finally terminated by the martial law introduced in December 1981, import of these machines was pointed out as a shining example of Poland's economic exploitation by the USSR – no wonder, considering their enormous appetite for fuel, which was then rationed for private customers. Despite this, purchases continued until 1988. First four ST44s had standard Soviet Matrosov brakes, soon replaced by more typical Oerlikon units. Exhaust silencers were fitted from ST44-45 onwards and ED-118 electric motors from ST44-281 onwards.
Broad-gauge ST44s were given service numbers from ST44-2001 onwards and served on the LHS line. They were delivered between February 1978 and July 1980; one more followed in 1991, but this engine was converted from a standard-gauge one and designated ST44-2051 to replace the one with the same number, written off following a crash. Until 2009, thirteen broad-gauge ST44s were written off (cannibalized or scheduled for modernization – see below) and ST44-2008 was converted to the 1435 mm track in 2002. Three examples, namely ST44-2023, -2029 and -2041, were delivered as standard-gauge ones and never used with the LHS.
Political changes in Europe that followed the collapse of the former Eastern Block had a major impact on the service history of these machines. Ex-Soviet M62s remained in use in most European and Asian former Soviet republics. According www.railfaneurope.net (2005  update), Lithuania had 42 examples (other sources give 32, while statistics quoted by T.Butrym in SK vol.5/2003 give 43 machines), Latvia 36, Estonia 5 and Moldova 4. Until late 2006, Estonian M62s were all sold (some to Poland), while Lithuania and Latvia put some re-engined (probably with with 12ChN26/26) locomotives back in service, so that they numbered 49 with both operators. They are also operated by railways of Ukraine and Belarus, but exact numbers are unknown. In Hungary, according to available sources,  MÁV had 89 examples in February 2006, including nine broad-gauge M62.5s. In 2001 a modernization program was launched, including first of all prime mover replacement (class M62.3). Initially, Caterpillar CAT 3512 (M62-302) or MTU 12V4000 R40 (M62-301, -303 and -304) diesels were used, but from M62-305 onwards probably all examples have received Zeppelin units. In January 2008, MÁV had 44 'old' M62s, 34 modernized M62.3s and eight broad-gauge M62.5s; recently their class designations have been changed to 2062, 2362 and 2862, respectively. Most probably GySEV no longer uses these locomotives. In Czech Republic, last class 781 locomotive was reported in service with ČD in November 2002. In Slovakia, 781 368-6 (appropriately named 'The Last Mohican'), based in Košice, remained in use with ŽSR until March 2006. It was originally intended for preservation, original service number T679.1368 having been restored, but was finally sold to Poland and re-numbered once again, this time to M62-1242. Both ČD and ŽSSK have not implemented any modernization programmes. All above numbers do not include machines owned by industrial operators. Some sources state that all Cuban machines have already been withdrawn from active service (lack of spares?). Withdrawals of M62s continue, so these numbers will change; I try to update them from time to time.
In Poland, the final fate of ST44s was doomed mainly by considerable surplus of heavy mainline diesel locomotives, following the dramatic decrease of freight services in the 1990s. Although praised for simplicity, ruggedness and ease of maintenance, they had obvious shortcomings: enormous fuel consumption (in practice much higher than declared in catalogues), short range (fuel capacity of only 3900 l, or even 3500 l according to LOZD, while ST43 took 4880 l with lower specific consumption) and primitive suspension, to name but a few. Without much hesitation, literally hundreds of these machines were sold for scrap. In 1999 PKP declared 401 ST44s surplus: the majority, especially older examples, went to scrap disposal companies. Some estimates give about 2,000 diesel locomotives scrapped during the 1990s, and of these the ST44s formed the major part. Quite ironically, many older ST43s, once rejected, withdrawn and kept in reserve, were restored in service, thanks to much better economy. According to AL, in 2002 PKP had 153 ST44s (certainly not all in use or even serviceable), including fifty with LHS. Until 2007, their number fell to 134; all withdrawn examples were standard-gauge ones. In fact it had been intended to retain them in operation on the broad-gauge LHS line only, but in late 2006 ten ST44s were scheduled for major overhauls and then modernization (see below). One example (ST44-001, s/n 053, built in 1965) has been preserved at the Railway Museum in Warsaw; this machine, in fact the first one bought for PKP, has been brought up to later standards, with large headlights and roof-mounted exhaust silencers, and does not represent the exact appearance of early variants.
Some M62s have managed to escape such inglorious end. Several have been purchased by various private German railways; again, from data compiled by Marco van Uden, I estimated their number at 23, but probably it is higher. Most of them have been bought from PKP (rumor has it that they were sold dirt cheap) or Czech railways. On the contrary, DB AG did not keep ex-East German machines (re-designated class 220 in the DB service) in use for long; for example, in 1994 about 30 were sold to Lithuania for spares. Last service with DB was in March 1995. Several Polish, Slovak and German locomotives were overhauled and sold to Northern Korea, where service economy is clearly of minor importance.
Quite surprisingly, early 21st century saw the beginning of not the final, but just another chapter in the colorful history of Polish M62s. They have been found particularly suitable for modernizations and several programs have been launched. Two locomotives from the LHS fleet (ST44-2064 and ST44-2067, both built in 1980) were modernized by Fablok and outshopped in March 2005. These machines, with factory designation ST44BF, are fitted with 3000 hp Caterpillar 3516BHD diesels (which made them the most powerful locomotives serving in Poland at that time – both SP47s had been written off many years ago) and have numerous minor improvements; details can be found at www.fablok.com.pl. Further modernizations were, however, mostly based on that introduced by PKP Cargo and on Newag 311D conversion (see below). In late 2007, PKP Cargo ordered modernization of ten ST44s, to be completed by PESA in mid-2008; later it was extended to include further fifteen examples. These locomotives were given new service numbers, from ST44-1201 onwards, and fitted with Russian 12ChN26/26 diesels from Kolomna. PKP Cargo modernization package includes air-conditioned cabs – a measure of luxury compared with old 'Gagarins' which offered little comfort for crews. First example, ST44-1201 (ex ST44-894), was delivered in March 2008 and the last, ST44-1225 (ex ST44-793), in April 2009. Modernization of the second batch (ST44-1226 through 1251), numbering 26 examples, was begun in mid-2011 and completed in July 2012; these engines differ from their predecessors only in minor details. Although the entire program was considered successful, Kolomna diesel engines initially suffered from poor reliability. Further modernizations of the PKP Cargo diesel locomotives fleet shall be concentrated on SU46s and SM48s.
In the meantime, ST44s with their original 14D40 diesel engines in the PKP Cargo service continuously dwindled in number. In mid-2017 only fourteen were still operational. They are based in Białystok, Suwałki and Warsaw. Their certificates will expire until 2021 and most probably this will mean an end of their service with state railways. A number of second-hand M62s were purchased abroad by various Polish private operators, mostly in Germany; these were former DR, ČD and PKP locomotives and most had seen some service with various German private operators, including WAB and ITL. First arrived in 2002 and, according to SK and various Internet sources, about eighty examples have been purchased by private railway companies until October 2008. They are designated ST44 or M62 – quite oddly, first machine impressed into service with CTL in 2002 was numbered CTLR4C-001 and still exists with this number, although has already been withdrawn and most probably will be canibalized. Private operators also launch their own modernization projects. Two locomotives, purchased in early 2006 by Pol-Miedź Trans company from German operators (M62-0161 and M62-1841) were modernized similarly to the PKP Cargo variant described above. Four M62s (-1194, -1239, -1318 and -1601), purchased by PCC Rail, were modernized by Newag and fitted with TEM2 trucks. Rail Polska have introduced even more comprehensive modernization project. In 2006, three M62s (M62-1117, M62-1121 and M62-1108) from Estonian EVR railways were fitted with reconditioned GM 645E3B 16-cylinder two-stroke diesel engines, rated at 3000 hp. These diesels were taken from withdrawn class F40PH locomotives (Montreal, Maine & Atlantic RR). Apart from prime movers, modernized locomotives were fitted with 'new' generators, compressors, cooling fans, control systems and many other items. They were re-classed EM62 (service numbers EM62-001 through 003); later this designation was changed to M62M. The conversion is considered entirely successful and a dozen or so more engines followed during the next few years; in late 2011 Ukrainian M62-1361 was modernized to the same standard and as many as thirty were intended to follow until 2015. In 2005 four Estonian 2M62s were bought by Rail Polska, but saw no service in their original form. Initially I hoped for a great thrill – as did many railway fans – but all 2M62s have already been divided into single sections. In late 2011 2M62U-0375 was brought from Daugavpils, Latvia, to ZNTK Oleśnica; following its division into two separate units these have been given somehow untypical service numbers M62UP-0375A and M62UP-0375B.
Undoubtedly the most ambitious and comprehensive modernization – or rather reconstruction – has been undertaken by Newag in co-operation with General Electric and has led to what in fact is a new locomotive. With factory designation 311D, it was first shown at the TRAKO international fair in Gdańsk in September 2007. 311D has retained original trucks, suspension and traction electric engines, but is fitted with four-stroke General Electric GE7FDL 12EFI diesel, rated at 2900 hp, new electric equipment and control systems and new body, which makes it externally completely different from M62. First examples appeared in service with Koleje Bałtyckie, a newly-formed private railway company, in October 2007 and initially this conversion included 22 examples. This locomotive is in fact a new design and is described under a separate entry. Perhaps the most surprising event in the history of M62 modernizations took place during Trako 2017 international fair in Gdańsk in September 2017, when Rail Polska for the first time revealed the existence of an electric version. Designated 207E, this locomotive was converted from M62-1262 – originally one of two sections of 2M62-1006, purchased from Estonian railways EVR. Conversion was performed at the company's own workshops. This locomotive shall be described under a separate entry.
In most East European countries that purchased the M62s they were the largest and most powerful diesel locomotives in service and quickly became favorites of the railway fans. This is reflected by commonly used nicknames: 'Gagarin' (in Poland), 'Sergei' (in Czechoslovakia and Hungary) or 'Taigatrommel' (in Germany – due to characteristic noise produced by the slow-rotating two-stroke diesel), to quote but a few. One of the reasons for this popularity was certainly their impressive appearance, with massive trucks, prominent pilots (very typical for Soviet locomotives) and high-pitched body. In comparison with 'Gagarins', ST43s looked almost diminutive, unimpressive and weak, despite having slightly more power at nearly the same weight and being only 550 mm shorter. In Russia, single-section M62, commonly dubbed 'Mashka', is considered a light mainline diesel locomotive and often runs with passenger trains.
Apart from the above-mentioned ST44-001, a number of these locomotives have been preserved. ČD 781 600-2 (Lugansk 3426/1979) can be seen at the Czech railway museum in Lužna u Rakovnika. ŽSSK 781 168-0 (Lugansk 0425/1968) has been preserved in Slovakia. Hungarian M62-001 can be seen at the railway museum in Füsti. 2M62-500 is on display at the Western Siberian Railway Museum in Seyatel, near Novosibirsk in Russia; as far as I know, a M62 can also be seen at the railway museum in Shushary, near St.Petersburg. At least seventeen locomotives of this type have been preserved in Germany (in museums, with DB or as a private property).
Main technical data
No.

Parameter

Unit

Value

1.

Years of manufacture

-

1964 – 19955)

2.

Total built / used in Poland

-

35286) / 11941)

3.

Axle arrangement

-

Co'Co'

4.

Transmission type

-

electric 570 V

5.

Design maximum speed

km/h

100

6.

Prime mover type

-

14D40

7.

Engine rating

kW/hp

1470 / 2000

8.

Bore x stroke

mm x mm

230 x

300 / 304.37)

9.

Number of cylinders

-

12

10.

Number of electric engines

-

63)

11.

Rated output of electric engines

kW

6 x 2104)

12.

Main reduction gear ratio

-

68:15

13.

Diameter of drivers

mm

1050

14.

Total weight

kg

116 500

15.

Axle load

T

19.4

16.

Axle base

mm

12 800

17.

Overall length

mm

17 550

18.

Maximum width

mm

2 950

19.

Train heating

-

none

20.

Brake type

-

Oerlikon2)
<![if !supportLists]>1) <![endif]>Including 68 units for 1524 mm track and one M63; second-hand machines bought in from 2003 onwards, not included – currently about 80.
<![if !supportLists]>2) <![endif]>First machines (in Poland – first four) had Matrosov brakes.
<![if !supportLists]>3) <![endif]>Until 1974 ED-107 or ED-107A (193 kW), then ED-118A.
<![if !supportLists]>4) <![endif]>Most probably with ED-118A engines.
<![if !supportLists]>5) <![endif]>Built in series from 1965.
<![if !supportLists]>6) <![endif]>Excluding 2M62 and 3M62.
<![if !supportLists]>7) <![endif]>Right / left cylinder bank.
References and acknowledgments
<![if !supportLists]>- <![endif]>SK, various issues (including articles by Ryszard Rusak, from vol. 11/2003 to vol. 1/2004, and information on modernization packages in vol. 12/2007);
<![if !supportLists]>- <![endif]>Down the broad LHS track: a monograph on the LHS line by Tomasz Ciemnoczułowski (2009);
<![if !supportLists]>- <![endif]>KMD, various issues between 2000 and 2002;
<![if !supportLists]>- <![endif]>LOZD vol. 2;
<![if !supportLists]>- <![endif]>www.railwayfaneurope.net, www.scado.ru;
<![if !supportLists]>- <![endif]>www.zpok.hu/fjoo (website by Ferenc Joó);
<![if !supportLists]>- <![endif]>Triebfahrzeuge im Bestand der MÁV AG by Sandor Tóth;
<![if !supportLists]>- <![endif]>www.kolej.pl/~jareks/wtpkp and www.kolej.pl/~remik – unfortunately both these links are now dead.