<![if !vml]>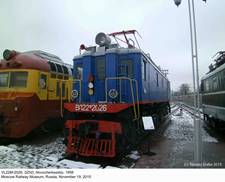 <![endif]>
Type 3E was based on Soviet VL22M, but externally was completely different. VL22M-2026, photographed at the Railway Museum in Moscow on November 19, 2015.
<![if !vml]>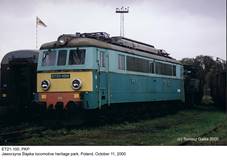 <![endif]>
ET21-100, PKP, at the Jaworzyna Śląska locomotive heritage park, October 11, 2000.
<![if !vml]>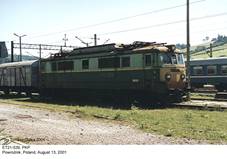 <![endif]>
ET21-539, PKP, at Powroźnik station, August 13, 2001.
<![if !vml]>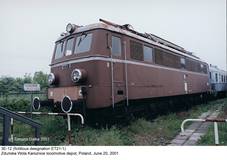 <![endif]>
3E-12 (designated ET21-1), Zduńska Wola Karsznice loco depot, June 20, 2001. This locomotive once served with sand railways; more pictures of 3Es used by these operators can be found here.
<![if !vml]>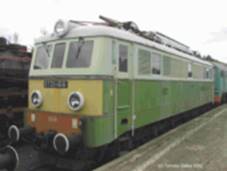 <![endif]>
ET21-66, PKP, Railway Museum, Warsaw, July 23, 2002.
<![if !vml]>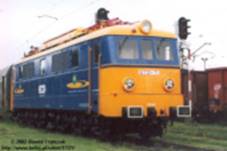 <![endif]>
ET21-71, KP Maczki Bór, new (at that time) livery. Photo by Dawid Frątczak from www.kolej.pl/tabor  (thanks for permission!).
<![if !vml]>

<![endif]>
ET21 (3E/1 modified variant), side drawing from a Pafawag folder.
<![if !vml]>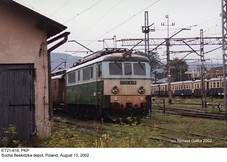 <![endif]>
This ET21-618 was photographed at the Sucha Beskidzka depot on August 13, 2002…
<![if !vml]>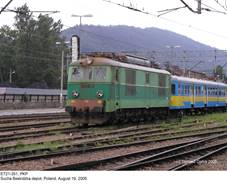 <![endif]>
… while this ET21-351, probably still in use, was photographed at the same location almost exactly three years later, on August  19, 2005.
<![if !vml]>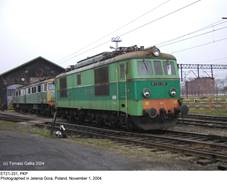 <![endif]>
ET21-331, photographed at the Jelenia Góra loco depot on November 1, 2004; an ET41 can be seen in the background.
<![if !vml]>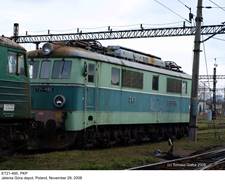 <![endif]>
ET21-495, photographed at the same location on November 29, 2008.
<![if !vml]>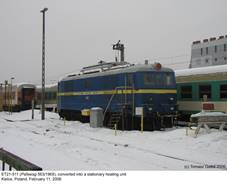 <![endif]>
Withdrawn ET21-511 (Pafawag 563/1968), converted into a stationary heating unit; Kielce, February 11, 2006. In 2011 this locomotive was sold to DLA and later returned to full working order as 3E/1M-511…
<![if !vml]>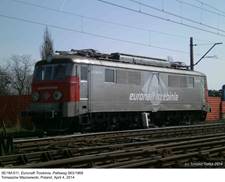 <![endif]>
…to be sold to Euronaft Trzebinia in 2014 – photographed in Tomaszów Mazowiecki on April 4, 2014.
<![if !vml]>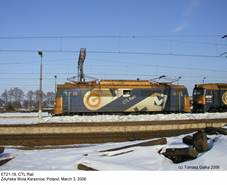 <![endif]>
ET21-18, operated by CTL Rail; photo taken at Zduńska Wola Karsznice on March 3, 2006.
<![if !vml]>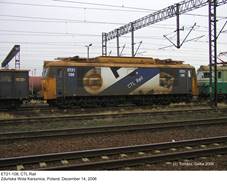 <![endif]>
Another locomotive from CTL Rail: ET21-108, photographed on the same location on December 14, 2006.
<![if !vml]>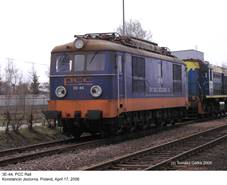 <![endif]>
3E-44, operated by PCC Rail, photographed in Konstancin Jeziorna on April 17, 2006: this track is not electrified!
<![if !vml]>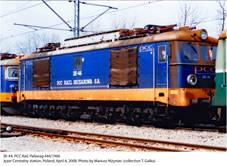 <![endif]>
Two more pictures of this locomotive…
<![if !vml]>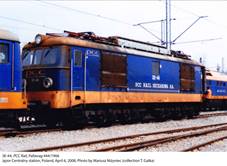 <![endif]>
… both taken at the Jęzor Centralny station on April 6, 2008, by Mariusz Niżyniec (from my collection). This locomotive was taken over by DB Schenker Rail Polska in November 2011.
<![if !vml]>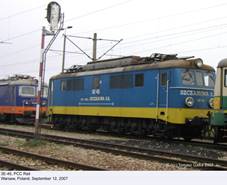 <![endif]>
Another machine from the PCC Rail fleet: 3E-45, photographed near the Żerań power plant in Warsaw on September 12, 2007.
<![if !vml]>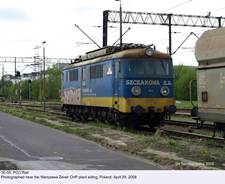 <![endif]>
The same location and the same operator: 3E-55, April 29, 2008.
<![if !vml]>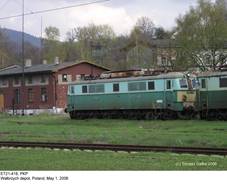 <![endif]>
Four ET21s, photographed at the Wałbrzych depot on May 1, 2006: ET21-418...
<![if !vml]>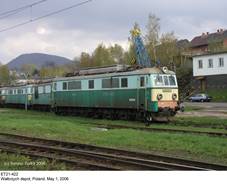 <![endif]>
... ET21-422 (two more in the background)...
<![if !vml]>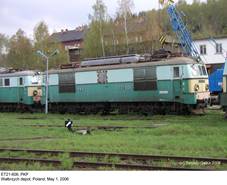 <![endif]>
...ET21-606...
<![if !vml]>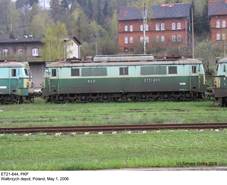 <![endif]>
... and ET21-644.
<![if !vml]>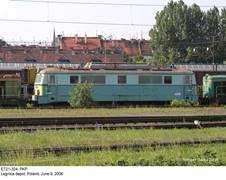 <![endif]>
This ET21-324 ...
<![if !vml]>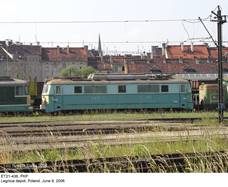 <![endif]>
...and this ET21-436, both probably withdrawn, were photographed at the Legnica depot on June 9, 2006.
<![if !vml]>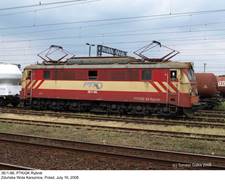 <![endif]>
3E/1-86 from the PTKiGK Rybnik fleet, photographed in Zduńska Wola Karsznice on July 16, 2008.
<![if !vml]>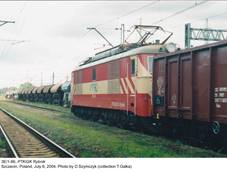 <![endif]>
Earlier picture of this locomotive: Szczecin, July 6, 2004. Photo by D. Szymczyk (from my collection).
<![if !vml]>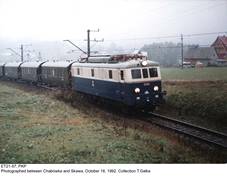 <![endif]>
ET21-57, photographed between Chabówka and Skawa with a special train on October 18, 1992. Photo by Wojciech Szpigiel (from my collection).
<![if !vml]>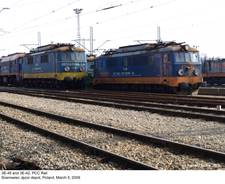 <![endif]>
3E-45 and 3E-42, posing at the CTL Rail depot in Sosnowiec Jęzor; March 5, 2009.
<![if !vml]>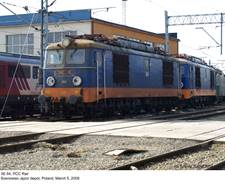 <![endif]>
Three more pictures, taken on the same occasion: 3E-54…
<![if !vml]>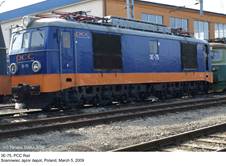 <![endif]>
…3E-75…
<![if !vml]>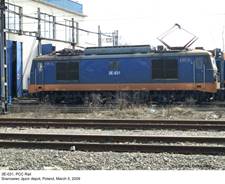 <![endif]>
…and 3E-031 (the reason for using '0' in this designation is unclear).
<![if !vml]>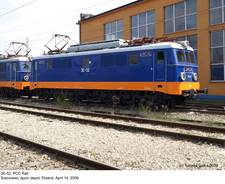 <![endif]>
Two more pictures from the PCC Rail depot, April 14, 2009: 3E-52…
<![if !vml]>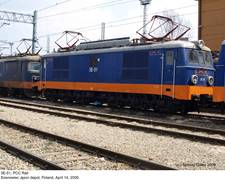 <![endif]>
…and 3E-51.
<![if !vml]>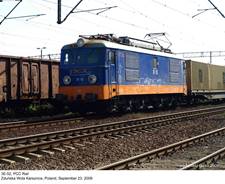 <![endif]>
Another picture of the 3E-52 – this time with a freight train in Zduńska Wola Karsznice; September 23, 2009…
<![if !vml]>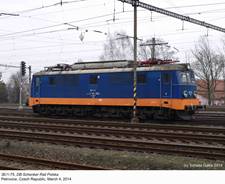 <![endif]>
…and another picture of the 3E/1-75, already in the DB Schenker Rail Polska service; Petrovice, Czech Republic, March 4, 2014.
<![if !vml]>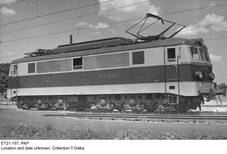 <![endif]>
ET21-157, location and date unknown. Photo from my collection.
<![if !vml]>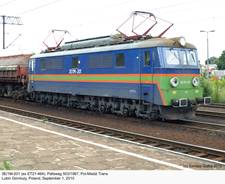 <![endif]>
3E/1M-201 is the former ET21-464 which spent several years as a stationary heating unit; owned by a trading company, it has been leased to Pol-Miedź Trans. Photo taken at the Lubin Górniczy station on September 1, 2010.
<![if !vml]>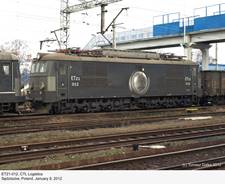 <![endif]>
ET21-012 (Pafawag 411/1966), CTL Logistics, photographed in Sędziszów on January 8, 2012. This is ex-PKP ET21-378, sold to the sand railways in 1992.
<![if !vml]>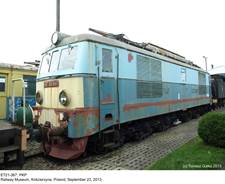 <![endif]>
ET21-367 on static display at the Kościerzyna railway museum, September 23, 2013.
<![if !vml]>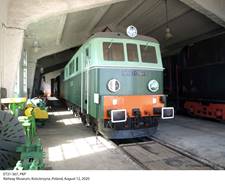 <![endif]>
The same locomotive after external refurbishment: August 12, 2020.
<![if !vml]>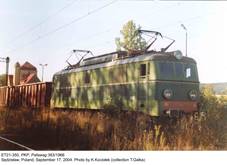 <![endif]>
ET21-350, Photographed in Sędzisław on September 17, 2004. Photo by K. Kociołek (from my collection).
<![if !vml]>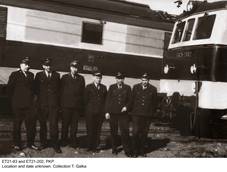 <![endif]>
This photo captures the spirit: railwaymen pose by ET21-83 and ET21-202. Location and date unknown (photo from my collection).
<![if !vml]>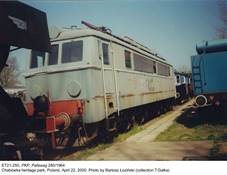 <![endif]>
Two pictures of withdrawn ET21s: ET21-250, Chabówka, April 22, 2000…
<![if !vml]>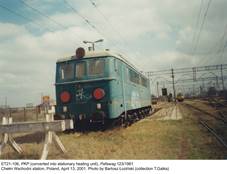 <![endif]>
…and ET21-106, converted into a stationary heating unit at the Chełm Wschodni station, April 13, 2001. Both photos by Bartosz Łoziński (from my collection).
<![if !vml]>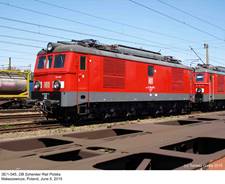 <![endif]>
After DB Schenker Rail Polska have taken over former sand railways, several 'Sputniks' appeared in characteristic red livery. These four photos were taken in Małaszewicze on July 5, 2015: 3E/1-045…
<![if !vml]>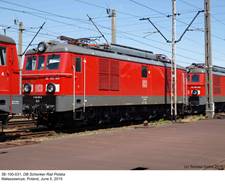 <![endif]>
…3E-100-031…
<![if !vml]>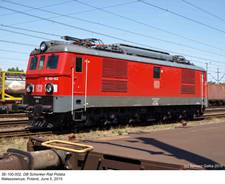 <![endif]>
…3E-100-002…
<![if !vml]>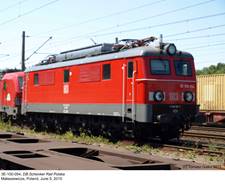 <![endif]>
…and 3E-100-054. This session ended up with a meeting with two guys from Railway Guards; fortunately I managed to persuade them I was not a thief!
<![if !vml]>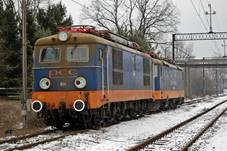 <![endif]>
This modernized 3E-54 (Pafawag 532/1968) from the PCC Rail fleet has retained its original designation; Stalowa Wola Południe, February 19, 2011. Photo by Luaksy94 (source: www.commons.wikimedia.org).
<![if !vml]>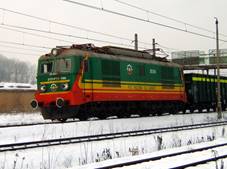 <![endif]>
A locomotive with dual designation: E21-PTK-009 aka 3E-009, formerly PMPPW 64 and currently DB Schenker Rail Polska 3E/1-009, Pafawag 650/1969. November 17, 2007, location unknown. Photo by Paweł Michalik (source: as above).
<![if !vml]>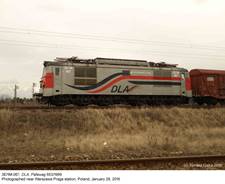 <![endif]>
This modernized 3E/1M-067 Pafawag 653/1969) was originally delivered to sand railways as 3E-67. Currently it is owned by Wrocław-based DLA; this acronym stands for 'Dolnośląskie Linie Autobusowe' (Lower-Silesian Bus Lines), but the company operates also freight trains. Photographed near Warszawa Praga station, January 28, 2016.
<![if !vml]>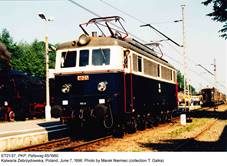 <![endif]>
ET21-57 (Pafawag 65/1960), Photographed in Kalwaria Zebrzydowska on June 7, 1996. Photo by Marek Niemiec (from my collection).
<![if !vml]>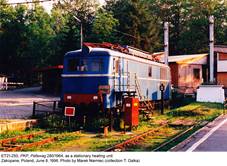 <![endif]>
Another picture by the same author: ET21-250 (Pafawag 280/1964), converted into a stationary heating unit, Zakopane, June 8, 1996. This locomotive was later transferred to Chabówka and scrapped there in 2001.
<![if !vml]>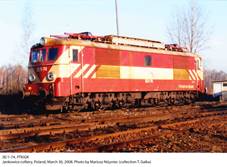 <![endif]>
3E-1-74 from the PTKiGK Rybnik fleet, photographed at the Jankowice colliery on March 30, 2008. Photo by Mariusz Niżyniec (from my collection). This locomotive was withdrawn and scrapped in December 2017.
Apart from a handful of EP02s (with traction motors and electric equipment imported from Great Britain), first Polish electric passenger locomotive of indigenous design, the EP09, appeared as a prototype in 1986. Freight machines were given priority and the ET21, in production from 1957 to 1971, can be viewed as the first electric locomotive, designed and built in Poland, to be produced in quantity – although some traces of foreign ancestry can also be found. It was also produced in large numbers, among electric locomotives second only to its successor, the ET22.
In view of rapidly progressing electrification and the decision to terminate deliveries of steam locomotives, the need for an electric freight machine became obvious. Design work was entrusted to the Central Rolling Stock Design Bureau of Poznań, and series production to the Pafawag factory of Wrocław (pre-war Linke-Hofmann), with several sub-contractors. Two prototypes of the 3E (this was the manufacturer's designation) appeared in 1957 and series production started the following year.
From the mechanical point of view, new machine owed much to the experience gained with the EP02 passenger electric locomotive and six-axle 2E53, built for industry. Although still a simple and straightforward design, it had markedly improved running qualities. Traction motors and electric equipment were patterned upon those of the Soviet freight locomotive VL22M (BЛ22M), developed from the pre-war VL22 and produced by the Novocherkask works between 1947 and 1958 (1541 examples, never used in Poland, which owed much to General Electric and Brown Boveri designs of early 1930s). In 1960, after 83 examples (some sources give 73) had been delivered, a slightly modernized version was introduced, designated 3E/1; modifications were aimed mainly at improving reliability, simplifying maintenance, reducing overall weight (by some 5%) and better weight distribution. More extensive modernization, including modified trucks, redesigned reduction gears and improved electric equipment, was finally abandoned. Production was halted in 1971, after 726 machines had been built. Later, during overhauls, several older machines were brought up to the E3/1 standard. A version intended specially for industrial operators (mainly sand railways), with factory designation 5E, did not progress beyond initial design stage, although later a few dozen standard machines went to industry.
PKP designated their new machine first E500, then E06 and finally, in 1958, ET21, in accordance with new Polish Standard; it was commonly nicknamed 'Sputnik' among crews and railway fans. PKP received 658 examples; the rest went to sand railways (PMP-PW, or Filling Materials Enterprise of the Coal Industry) that supplied filling material to Silesian collieries. Locomotives supplied to PMP-PW retained their factory designations, 3E or 3E/1, and were numbered from 10 upwards. In the 70s, due to severe shortage of electric locomotives, PKP rented several (most sources give eighteen) machines from sand railways, giving them the ET21 designation and out-of-sequence service numbers – their original PMP-PW two-digit numbers preceded by 9. All were returned in late 1970s. Then, in the 80s, PKP sold 31 examples – mostly older ones – to sand railways; they were assigned new service numbers, but some retained their original class designation ET21. These transfers brought about some confusion in identification of individual examples. Several designations were used twice and there were even three different ET21-22s! 3E was the most numerous electric locomotive in the PMP-PW service, as heavier and more modern 201E (ET22) proved unsuitable for tight curves, typical for sand railways. Several examples were experimentally fitted with side-mounted current collectors, typical for locomotives used in open-pit mines. This modification, however, proved unsuccessful and all modified machines were later rebuilt to their original configuration. In 1989, shortly before PMP-PW was divided into four independent companies, this operator had 79 examples and this type remained in service until de-electrification of sand railways in the 1990s. Despite the ET21 designation, which implies a freight machine, all ET21s purchased by PKP were fitted with car heating couplings (3000 V DC) and could be used with passenger trains, although their characteristics in this role were considered far from satisfactory. Locomotives purchased brand new by sand railways had no heating devices. Seven ex-PKP ET21s were sold to various private operators.
ET21s remained in use with PKP for a long time, ending up in freight service in southern Poland. Withdrawal of these locomotives began in 1980 and initially was limited to the first production variant 3E. It reached its peak in late 90s, 107 examples being written off in 1998 alone. On January 1, 1999, only 107 locomotives remained in the PKP rosters and during next eighteen months their number fell to 60, of which 48 were serviceable. According to AL, in the beginning of 2002 PKP had only 44 examples, of which just a dozen or so remained in active service. According to some sources, ET21s had been intended to be withdrawn from regular service altogether in 2002, but they remained in use for much longer, even with passenger trains. The main reason was their good performance on mountain lines: in 2005 ET21s still hauled passenger trains around Krynica. According to rosters available at www.lokomotywowniapkp.republika.pl, in early 2006 PKP still had fifty ET21s, obviously not all of them serviceable. Another source (www.kolejowaklatka.org) gives just 25 examples with PKP Cargo in late 2011. In mid-2015 about twenty were in the company's rosters, but – according to SK – just three remained operational in October. At that time major repairs of this type had already been terminated. Last ET21 in the PKP service, ET21-548 (Pafawag 600/1968), suffered a converter failure in November 2016 and was finally withdrawn from use, a repair being considered unprofitable. Currently (May 2021) PKP Cargo formally has four examples, but all have been withdrawn from service.
Independent operators that came into being when PMP-PW was dissolved in 1990, as well as those established later, will use these machines for much longer, as they later expanded their scope of activity to include public transport throughout Poland. Despite purchases of second-hand electric locomotives in considerable numbers (mainly from Czech and Slovak operators), overall withdrawal of elderly 'Sputniks' is not planned for the near future. In fact, one of these companies bought two ex-PKP examples from a scrap-disposal company in 1999. In 2004, private operators had at least 45 examples (probably not all operational); largest fleets were owned by PCC Rail Szczakowa (since 2007 PCC Rail S.A., 18) and CTL holding (15). In 2006 two ET21s, owned by PCC Rail Szczakowa (3E-42 and 3E-53) were fitted with multiplied control systems and often double-head heavy drafts. Five more have followed until mid-2007 and further are expected to follow soon. According to SK, in mid-2007 private operators in Poland had 43 locomotives of this type; CTL group had 14, PCC Rail – 16, PTKH (until 2007, PTKiGK Zabrze) – 10, PTKiGK Rybnik – 2 and Orlen KolTrans – 1. Quite surprisingly, in late 2009 this number increased to 44, as former ET21-464 (Pafawag 503/1967), after spending ten years as a stationary heating unit, was restored in service with Pol-Miedź Trans and re-numbered 3E/1M-201. The second one, 3E/1M-202, also a reconditioned locomotive (ex 3E-53, withdrawn from service after a crash in December 2007), followed in June 2010. In 2011 Dolnośląskie Linie Autobusowe (Lower-Silesian Bus Lines – it seems that they also run trains!) purchased ex-PKP ET21-428 (465/1967), ET21-295 (328/1965) and ET21-511 (563/1968), withdrawn in 1993 and subsequently used as stationary heating units in Skarżysko Kamienna and Kielce. All were restored in service. Some ET21s used by private operators had been modernized to various extents (even including new traction engines) and resemble old 'Sputniks' only externally; a few have been re-designated ET21M, possibly unofficially. After further transformations, in late 2011 the largest fleet was that of DB Schenker Rail Polska (which had absorbed several private operators, including former sand railways), numbering 27 examples, of which two were being gradually cannibalized. CTL Logistics had fourteen and PHU Lokomotiv – two. There is much confusion concerning service numbers of 'Sputniks' operated by private enterprises. Some have retained their old PMP-PW numbers, preceded by type designation (3E or 3E/1), while other were given completely new numbers. For example of 27 locomotives in the DB Schenker Rail Polska fleet in late 2011 nine examples were numbered from –001 to –009 (of which six were ex-PMP-PW locomotives and three came from PKP), sixteen still had their previous PMP-PW numbers and two were ex-PKP examples with out-of-sequence numbers.
Some – most probably six – ET21s have been preserved. One of them, now in Karsznice railway depot, is designated ET21-1, but this is not the first example built. This machine was used by KP Maczki Bór sand mine as 3E-12 and its factory number is in fact 23; it has retained its original color, quite different from typical PKP livery. Most probably its current designation is purely fictitious, but anyway it is an early example. One heritage machine – ET21-57, now in Chabówka railway stock heritage park – is still serviceable and can sometimes be seen with special trains in southern Poland. ET21-100, withdrawn in April 2000 and later transferred to the Jaworzyna Śląska depot (now Industry and Railway Museum), experienced a peculiar twist of fate: in 2006 it was sold to Orlen KolTrans and underwent modernization at ZNLE Gliwice locomotive repair works (now Newag Gliwice). This modernization included fitting new current converter, upgraded traction engines, new buffers (which slightly reduce overall length), Oerlikon brakes and modified cab interior. In March 2007 it was restored in service as 3E-100, later re-numbered 3E-100-117. Externally – apart from new, bright red livery – this locomotive differed from others in having two windows in each front wall instead of three (middle window has been eliminated). In May 2010 3E-100 crashed near Świnoujście, but was later repaired and restored in service. Several other 3E/1s owned by DB Schenker Rail Polska underwent similar modernization; eight have been re-designated 3E-100. Some have retained the original front wall with three separate windows. According to www.ilostan.forumkolejowe.pl, as of May 2021 twenty-two 'Sputniks' remained in use with private operators. The oldest of them is 3E/1-006 (88/1960), originally delivered to PKP as ET21-74. In 1991 it was sold to the Kuźnica Warężyńska sand mine and re-numbered 57. Following transformations of the PMP-PW it was finally taken over by DB Schenker Rail (which absorbed PTK Holding) in April 2010 and re-numbered 3E-006. Again re-numbered 3E/1-006 in March 2012, it was finally sold to Wrocław-based PHU Aspekt in September 2015 and is currently leased to CTL Logistics.
Main technical data
No.

Parameter

Unit

Value

1.

Years of manufacture

-

1957 – 1971

2.

Total built / used in Poland

-

726 / 726

3.

Axle arrangement

-

Co'Co'

4.

Control

-

individual

5.

Design maximum speed

km/h

100

6.

Traction motors (number x type)

-

6 x LKa634

(LKb635)

7.

Voltage

V

3000

8.

One-hour rating

kW/hp

2400 / 3260

9.

Continuous rating

kW/hp

2040 / 2772

10.

Electric current at one-hour rating

A

290

11.

Electric current at continuous rating

A

225

12.

Rotational speed at one-hour rating

rpm

710

13.

Rotational speed at continuous rating

rpm

750

14.

Engine suspension

-

nose-suspended

15.

Reduction gear ratio

-

85:24

16.

Diameter of drivers

mm

1250

17.

Total weight

kg

121 000/113 0001)

18.

Axle load

T

20.16 / 18.91)

19.

Axle base

mm

12 000

20.

Overall length

mm

16 820

21.

Maximum width

mm

3 050

22.

Brake type

-

Westinghouse
1) After modernization
References and acknowledgments
<![if !supportLists]>- <![endif]>www.kolej.pl/tabor/ET21 (website by Dawid Frątczak – no longer active);
<![if !supportLists]>- <![endif]>www.kolej.pl/~jareks/wtpkp (website byJarek Stawarz aka Chester – no longer active);
<![if !supportLists]>- <![endif]>www.kolejowaklatka.org (website by Marek Dąbrowski);
<![if !supportLists]>- <![endif]>www.ilostan.forumkolejowe.pl;
<![if !supportLists]>- <![endif]>AL;
<![if !supportLists]>- <![endif]>SK, various issues (including monograph article by Paweł Terczyński in vols. 3/2021 and 4/2021).